With 3 active boys in the house, we never seem to have enough bandages! Nexcare offers a great variety, and even better…Walmart has great prices on them.
Yesterday, on his way home from work, I had Doug stop at Walmart to grab dog food and some donut holes to make the Harry Potter Snitch Cupcakes. While he was there, I remembered we needed bandages, so I sent him a quick text to ask him to grab some Nexcare.
Walmart had several options, but the Nexcare bandages were the best value. Since our boys are all teenagers, he didn't buy the fun Strawberry Shortcakes bandages (although I'm sure he was tempted). We thought, next time  we would try the waterproof, which is always a great bandage to have during swimming season.
He bought the Comfort Fabric bandages, and sure enough, Casey came home from school and needed a bandage right away. He had cut himself on the tape dispenser at school.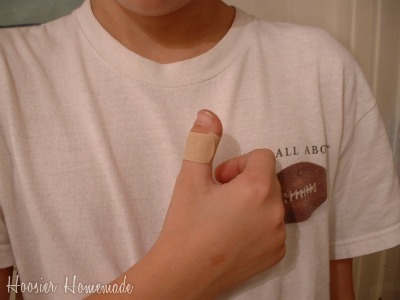 After returning home from Basketball practice today, Casey said that his cut was already healed. He liked how the Nexcare bandage was comfortable.
You can see of our shopping experience on Whrrl.
Disclaimer: I was compensated for this post by Collective Bias, but all opinions and experiences are my own.