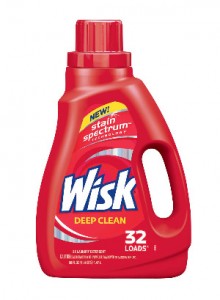 Over the past couple months, I have shared with you this amazing new product…New Wisk with Stain Spectrum Technology Laundry Detergent!
First I shared how the detergent works on Nick's white baseball pants, then I showed how it works on grass stains, and who can forget that crazy video with Casey splashing ketcup all over himself!
Today, we are talking about Oil Stains.  There are hundreds of different stains but most stains fall into three major groups:
Carbohydrates such as milk chocolate
Proteins such as grass
Oils such as peanut butter and make-up
Wisk is bringing science to stain fighting with an upgraded formula featuring Stain Spectrum™ Technology.  Wisk's enzymes and cleaning agents target the full range of stains on a molecular level for a powerful clean.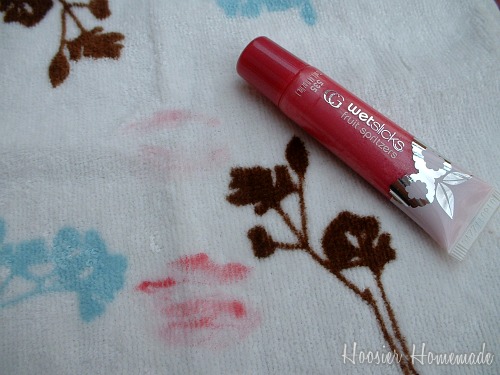 How often do you reach for a towel to wipe off your make-up, just to find that you have stained your towel?
Well, worry no more! New Wisk with Stain Spectrum Technology Laundry Detergent will take out the stain!
For this experiment, I applied some lip gloss and blotted it off with the towel.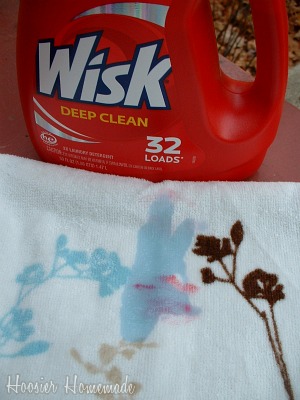 Using the New Wisk with Stain Spectrum Technology Laundry Detergent, I pre-treated the stain and scrubbed for about 30 seconds. Rinse in warm water…and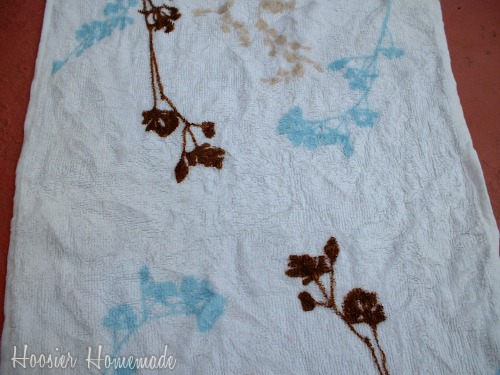 The stain is GONE! I'm telling you again, I LOVE this New Wisk!!
Here is a before and after to show you the difference…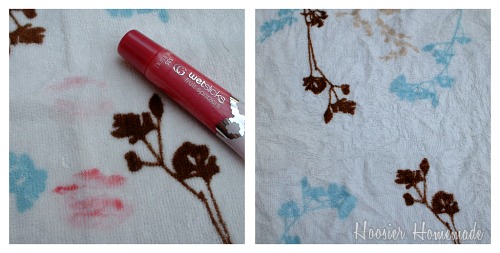 Wisk is available at major retailers nationwide, such as Walmart, Target and Kroger
 * Suggested Retail Price:  $5.99 for 50 fl oz. bottles that cleans 32 loads
You can learn more about the New Wisk® with Stain Spectrum™ Technology by visiting Wisk, where you can also download a $1 off coupon. Or follow them on Facebook or on Twitter for all the latest info!
Disclosure: This is a sponsored post and I received information regarding this product from One2One Network and Wisk. I will be compensated for this post, but all of my written opinions, ideas and experiences  are my own.