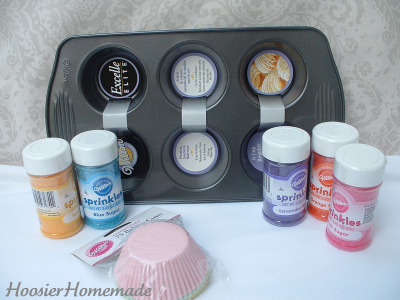 Giveaway Closed
I did my first ever vlog for Cupcake Tuesday, if you missed it, be sure to watch and learn how to decorate a cupcake with flowers 😉
Love cupcakes? Don't forget to enter to win a What's New, Cupcake? book!
I wanted to create some frog and duckie cupcakes, for the Mother's Day Extravanganza!
I used my favorite cupcake book, What's New, Cupcake? to create the ducks, and for the frogs, I just added green frosting, green sugar, gummi rings from Albanese Confectery Store and various candy for their faces.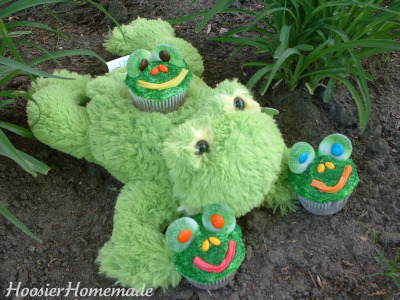 Enter to win a Wilton Cupcake pan, 5 colored sugars (pink, lavendar, orange, yellow and blue) and pastel paper liners.
Full Disclosure: Wilton and Albanese Confectery Store sent me products to try, my opinion is my own.
Don't miss the other giveaways too!
~$25 Alice Gift Card and BlogFrog Premium Membership
~$25 worth of products at the Paper Glitter Etsy Shop
~BlogFrog Premium Membership, T-shirt and Frog
~Tile Pendant from Queenie Designs Etsy Shop
~Glitter Products from PK Glitz
~Point of Grace CD and Cookbook
Giveaway Guidelines:
Please leave a seperate comment for each entry!
Visit my Cupcake Heaven page and leave a comment telling me which cupcake is your favorite.
Join my BlogFrog Community, and leave a comment with your BlogFrog Community name
Follow me on Twitter, leave a comment with your Twitter ID
Tweet about the giveaway including @HoosierHomemade in the tweet and a link to the giveaway post. Leave me a comment.
Subscribe to Hoosier Homemade
The Giveaways will all stay open until Monday, May 10th.at midnight. I will announce the winners on Wednesday. So you will have lots of time to visit everyone and enter!
Hop on over and visit these great blogs for more goodies