I have a confession to make…I hate doing housework and my husband does most of the cleaning around the house. It's not always been that way. Before I started blogging Doug worked outside the home and I took care of the house and the kids as they were growing up. And cleaning up the house was always a hassle, I always felt like I was fumigating the house as I was cleaning with the intense smell of bleach that permeated every pore it seemed. I gagged and coughed every time I cleaned.
So once we started blogging together I jumped at the opportunity to turn over those duties to Doug. He still hears my complaints when he cleans but at least I don't have to put up with the annoying parts of cleaning that come before you clean, when you have to put on protective wear to guard against bleach; and afterwards, when that bleach smell spreads through the house.
That bleach smell is the worse, my nose wrinkles up just thinking about it. That's why I was glad to hear that Lysol has developed a new line of cleaning products that don't use bleach.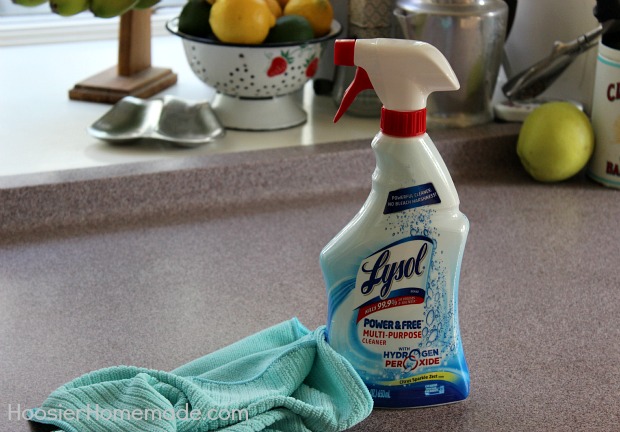 Lysol Power & Free products instead use hydrogen peroxide to deliver an effective clean that works better on grime like soap scum and grease than bleach does. With no bleach in its formula, Lysol Power & Free cleans up well, leaving behind no chemical residue and no bleach smell. Instead it leaves behind a nice fresh scent of either Citrus Sparkle Zest or Oxygen Splash (my favorite is Citrus Sparkle Zest).
There are four products in this line: a multi-purpose cleaner, a bathroom cleaner, a toilet bowl cleaner, and toilet and bathroom wipes. By their powers combined, you can have a clean and nice smelling home. I got the chance to try these new products, and my favorite thing is the smell. With Lysol Power & Free, I don't need to worry about a bad after-smell every time I clean. Isn't getting bad smells the reason you clean in the first place? Lysol seems to think so.
Now that we have found these products I just might help Doug with the housework again…Nah, probably not. Sorry honey.
Lysol® Power & Free uses the cleaning power of a hydrogen peroxide formula for a powerful clean with no bleach harshness! This helps ensure you don't have to make sacrifices while cleaning, such as opening all the windows or ushering the kids and pets out of the room. Lysol® Power & Free will help you break free from your ordinary cleaning routine- it's a powerful clean that's family friendly!
What do you love about a clean home? One of my readers will win a bottle of Lysol® Power & Free Multi Purpose cleaner to try in their own home! Comment below to be entered to win!
This is a sponsored conversation written by me on behalf of Lysol. The opinions and text are all mine. Official Sweepstakes Rules