I am beyond excited to be going to the Blissdom Conference this year! I'm really looking forward to meeting so many of my online friends. And learning from all the great bloggers.
You know how sometimes one thing leads to a big thing…well, that's what happened when I mentioned bringing cupcakes to Blissdom. And now, well, 8 dozen cupcakes later…it's a big thing! 🙂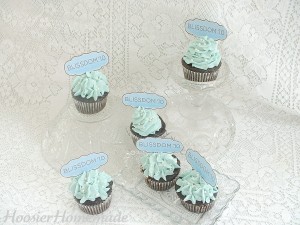 These cupcakes are chocolate with whipped cream frosting that I tinted a light shade of blue. Then I downloaded the Blissdom logo and printed it out just like I did for the Super Bowl Cupcake Toppers.
Seriously though, I'm excited to be sharing my cupcakes with all my friends. Unfortunately, I can't really take the "special" cupcakes, the ones with the yummy mousse filling and whipped cream frosting, because of refrigeration issues, but hopefully they will understand and still enjoy what I bring.
I also sewed myself a shoulder bag, small enough to carry my essentials. I added some cupcakes that I cut out of the same fabric I used in the basket. And the little pink cupcake bag I made, is for my business cards. Aren't they the greatest? My wonderful husband Doug, made them for me. I wanted something unusual, and of course, my cupcake from my header was perfect. He copied them onto cardstock, and printed all my info on the back. Then I cut them out, so they were shaped.
I was thrilled to have Albanese Confectionery Company provide me with their World's Best Gummi Bears to share with fellow bloggers and a few more to add to the cupcakes.
Here are the 16 cases of gummies that I will be sharing with everyone, boxed and ready to be loaded.
And because I didn't think it would be too good to share out of these big boxes, I added a piece of cupcake fabric to a basket and added some bags of gummies.
So if you are at Blissdom, look for me, I'll be the one with the cupcakes and gummies! 🙂