WooHoo! I'm heading to Evo with Apartment Guide!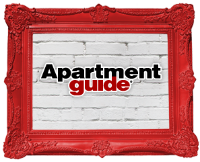 I look forward to catching up with old friends and making new acquaintances while learning all I can at Evo, while I'm there I'll be looking for bloggers who want to talk about ways they can partner with Apartment Guide on lifestyle-themed challenges. So don't be shy, when you see me let's talk.
In the meantime is your place in need of a style update? Visit Your Picks Your Place.com and enter the Apartment Guide "Your Picks.Your Place" Sweepstakes for a chance to win $10,000 to redesign your place to fit your personal style. Apartment Guide offers an array of how-to tips, entertaining, decor and organizing ideas whether you're living, looking or moving.
"Like" Apartment Guide on Facebook, follow them on Twitter @AptGuide and "circle" them on Google+ for real-time tips and updates on decorating your space.
Disclosure: Apartment Guide and owner Consumer Source, Inc. partner with bloggers such as me to participate in blogger programs.  As part of that program, I received compensation.  They did not tell me what to purchase or what to say about any products and believe that consumers and bloggers are free to form their own opinions and share them in their own words. Consumer Source's policies align with WOMMA Ethics Code, FTC guidelines and social media engagement recommendations.