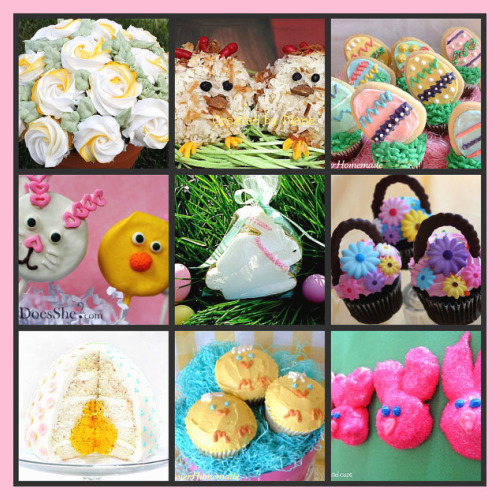 When I had the idea of putting together a Spring and Easter baking Hop, I knew the gals I wanted to ask to join me. With the help of Diane, from Created by Diane, we put together the most amazing team!
I hope you all enjoyed our Spring Hop Party! I wanted to show you the talents of these bloggers one last time and give them a HUGE THANK YOU for all their hard work! And Thank You to Diane for creating our fun button!
~Day 1 ~ Diane shared her beautiful Rose Cupcakes and her adorable chick macaroons
~Day 2 ~ I added my Easter Egg Cupcakes, 2-for-1, cupcakes with cookies (Recipe Box Giveaway)
~Day 3 ~ Shelley made the cutest bunny and chick Oreo suckers (Apron Giveaway)
~Day 4 ~ Janet shared her sugar cookies, they are an absolute work of art (Copper Cookie Cutter giveaway)
~Day 5 ~ Cindy added her cute Flower Basket Cupcakes
~Day 6 ~ Amanda showed us her beautiful Easter Egg Cake with a sweet surprise inside ($60 cash, ends April 6th)
~ Day 7 ~ I shared more Easter Cupcakes, chicks, bunnies and Peeps (Dual Decorator Bag, for icing)
~ Day 8 ~ Shelly made yummy Homemade Peeps to finish up our fun Party
Each of the ladies added some really fun giveaways, some of them are still open (I've indicated which ones next to their day). If you haven't entered, be sure to head on over and do so. The giveaways will end on Monday, April 5th.
I had a blast with the Spring Hop Party, I sure hope the others bloggers did too, as well as all of you! Please stay tuned…there just might be some more sugar bliss sometime in the future 🙂