Fourth of July is really big in our town. And it's one of our families favorite holidays. I thought it would be fun to have a week long celebration, so be sure to visit everyday for great food, decorating, and fun!
Here is a quick and easy recipe for brownies. I found it at AllRecipes.com, it went together very easy and they tasted really good.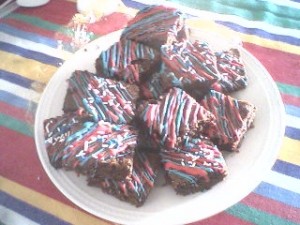 1 c. Butter
2 c. White Sugar
1/2 c. Cocoa Powder
1 t. Vanilla
4 Eggs
1 1/2 c. Flour  (some of the comments suggested less flour, I used 1 c. and they turned out fine, I may try them with a little more next time)
1/2 t. Baking Powder
1/2 t. Salt
1/2 c. Walnuts  (I left these out)
Melt the butter, then stir in remaining ingredients in order listed.
Bake at 350 degrees for 20-30 minutes in a 9×13 pan. (I baked mine at least 40 min. I don't know if it was because the recipe is off or because I baked them in a stoneware pan)
After they cooled, I tinted frosting blue and red, melted it in the microwave a few seconds and drizzled it on top of the brownies. I also sprinkled some of them with Fourth of July sprinkles.
For more great blog carnivals, please visit:
~Ultimate Recipe Swap hosted by Life As Mom
~Mouthwatering Mondays hosted by The Land of Monkeys and Princesses
~Recipe Swap hosted by Our Chaotic Life
~Make Something Monday hosted by Go Graham Go