Welcome to the beginning of a VERY fun week! All week long, I will be sharing some yummy recipes to make your Fourth of July fun and easy!
Today is all about Main Dishes! Are you heading to a cookout or maybe hosting a little (or big) get-together yourself? I have 3 yummy recipes for you to add to your list!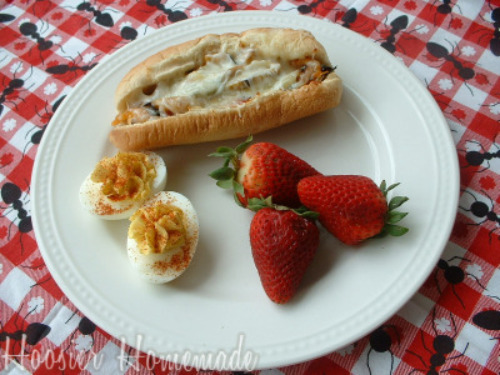 These Chicken Phillies are a huge hit at our house. They can be made by marinating chicken breasts and grilling it or by using the Tyson Grilled and Ready Chicken.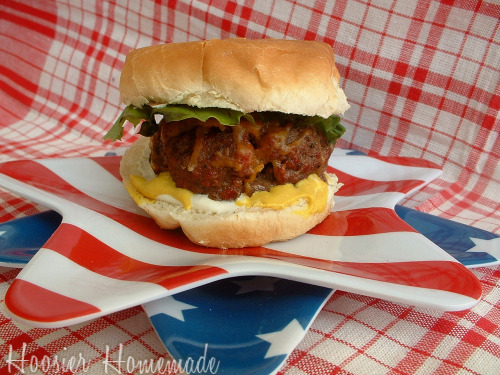 The All-American Burger is a classic Fourth of July Main Dish! I like changing my burgers up a bit by adding different flavors, like a package of dry Ranch seasoning or even Taco Seasoning. I added some of the Burger seasoning that I received in my Gourmet Grilling Basket from BarS Foods for the Dads Rock Giveaway Bash.
Chicken Kebabs are not only easy, they grill up super fast. For these Kebobs, I added some chunks of pepper, yellow, red and orange and some grape tomatoes. For the Chicken, I used Breast Tenderloin, cut it into chunks and marinated it with Maple Chipolte Sauce that I also received in my Gourmet Grilling Basket from BarS Foods.  If you are using wooden skewers, you need to be sure to soak them in water before using them on the grill.
Here is what we will eat the week.
Monday ~ Grilled Salsa Chicken, Rice, Veggies
Tuesday ~ Southwestern Salad
Wednesday ~ Chicken Nuggets and Fries
Thursday ~ Taco Ring, Chips and Salsa
Friday ~ Hawaiian Pizza
Saturday ~ Eating out and preparing for the Fourth of July festivities
Sunday ~ Happy Fourth of July!
Do you need some Fourth of July Inspiration? Check out my Fourth of July Mantle and then head on over to the Fourth of July Party over at It's A Blog Party!
I'm linking to the Blog Parties in my footer, please visit them! You might just find one or two that are new to you!