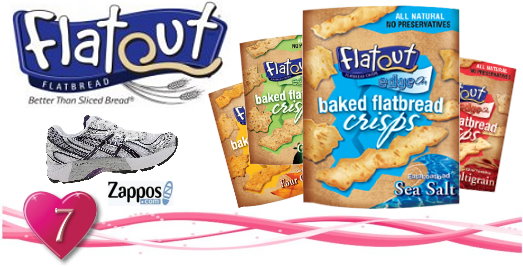 GIVEAWAY CLOSED
So many of us are trying to ensure that those New Year's resolutions to eat better and get healthy remain part of our daily focus. A healthy lifestyle can be achieved with a little "self love" this Valentine's Day! Simple steps such as eating great, healthy food and getting active are easy ways to help you feel great! The folks at Flatout have a delicious way to make sure that healthy food is great tasting food!
Flatout offers a variety of great tasting food that help you stick to those resolutions for a healthy lifestyle. With options like Flatout Flatbreads, FOLDit Artisan Breads and EdgeOn Baked Flatbread Crisps you can feel good about what you are eating without sacrificing taste!! Flatout products offer the good things that make us feel great. My favorite are the EdgeOn Baked Flatbread Crisps. Each of the varieties are all natural and have no preservatives. Not only do they offer a good source of fiber but they have up to 60% less fat than regular potato chips! The best part is that they taste great!
My boys love the Four Cheese Crisps. They have a great taste and unlike other cheese snacks, you will not have to wipe the oil from your hands after you dig in! I have to admit I am partial to the garlic and herb.
The mission of Flatout is to promote healthy eating with high quality products and I think they have definitely achieved that goal!!
To help you all achieve a little "self love" this Valentine's Day, the folks at Flatout have put together an awesome prize package. One winner will get a prize package that will include: 4 packages of EdgeOn Crisps, a $75 gift certificate to Zappos.com (for the purchase of a new pair of running shoes, workout gear, etc.), a spatula, cutting board, recipe booklet and messenger bag.
Entry is simple! You just need to answer the question below by leaving a comment on this site! You can even gain up to 3 bonus entries for doing each additional item listed (just make sure that you leave one comment for each one — up to a total of 4 comments). As a reminder, comments left on Facebook, Twitter or other posts will not be included.
REQUIRED ENTRY:
Head on over to Flatout, check out all the great products they offer. Come back HERE and let me know your favorite!
BONUS ENTRIES: Please leave a seperate comment for each entry.
Subscribe to Cupcake Chronicles or Hoosier Homemade (leave a comment letting me know that you do … if you are already a subscriber … you get a second entry as well!)
Follow Hoosier Homemade on Facebook or Twitter (leave a comment letting me know that you do … if you are already a follower on Facebook or Twitter … you get a third entry as well!)
Follow Flatout on Facebook.
This giveaway will remain open until 11:59 p.m. EST, Friday, January 28th. Any comments left after this cut-off will not be counted. The winner will be selected randomly and will be notified via email within 48 hours after the close of the contest.
This giveaway is part of the Grateful Giveaways Event being hosted by myself and 11 other bloggers. You can increase your chances of winning this prize (as well as all of the others on this site), by visiting each of them and entering the same way as you did here. You have plenty of time to get to all of them, since the contest will be open for five full days.
EACH of the 12 participating blogs has their own prizes to give away so make sure to enter on each blog for the best chances to win! Use this Spreadsheet to keep track of your entries!
As one final reminder, you will want to check out the terms of the giveaway by visiting the Grateful Giveaways: Celebrating a Season of Giving Facebook page. Just click on the TERMS tab at the top of the page. (Note that by entering this contest, you agree that you have read the terms and are eligible to enter this contest).
I received the same prize package as the winner to facilitate my review. My opinions of these products are 100% my own.