Easter is another really fun holiday to decorate for. There is just something whimsical about bunnies and chicks. I've had the best time changing the decorations on my Mantle, the Valentine's Mantle and St. Patrick's Day Mantle were the latest two that I shared.
Today I'm sharing my most recent, Easter Mantle.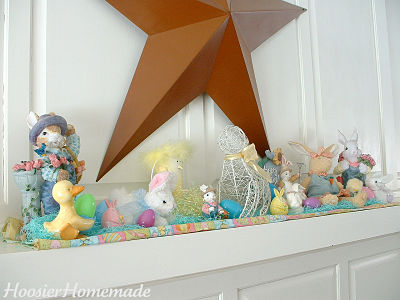 Once again, I've done a step-by-step tutorial for you…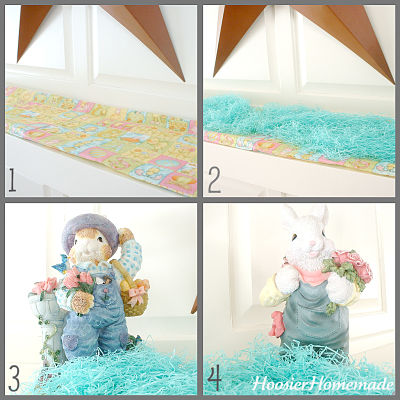 I started with a cute piece of fabric that has chicks and bunnies on it
Then I layered some Easter grass
At one end I put the largest ceramic bunny
And to balance it, one at the other end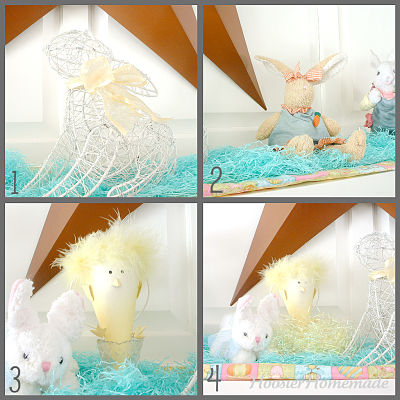 Then a medium to large bunny in the middle
A medium size bunny added
And on the other end, a smaller bunny and a cute chick. I really wanted to use the chick, but it's cone shape and wouldn't stand up, so I put it in a small vase
And then filled grass around it to hide the vase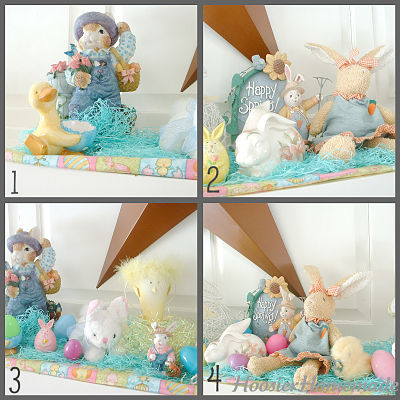 Fill in with smaller pieces, like this little duck
A little plaque and ceramic bunny
Then I added some bright colored plastic eggs
And more eggs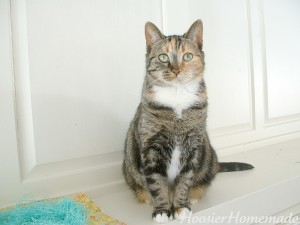 I just had to share a picture of my helper, Kali. She was so interested in what I was doing. And guess what I found out? Kali has a secret admirer!
Another no cost decorating project 🙂 Gotta love that
What's your favorite Easter decoration?
Don't miss out on the Spring Blog Hop! It starts today!
This post linked to:
~Frugal Easter Eggstravaganza hosted by Kingdom First Mom
~Spring Mantle Party hosted by A Soft Place to Land