As the Holidays were growing closer, I started getting excited about sharing my Christmas decorating with you. In the past, I have put up 7 trees (different sizes/3 full size) but this year, since starting my blog and being known as "The Cupcake Lady," I just had to add another tree for my office.
My Cupcake Tree!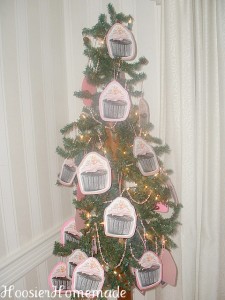 But, how was I going to decorate it on a very tight budget? So, the wheels started turning in my brain for a few weeks and I came up with these cupcakes. My son, Nick, printed them for me, they are the same cupcake that I have in my header (Thanks, Joy

) I cut them out, and Nick's girlfriend glued them onto pink cardstock for me. I always put extra kids to work in my house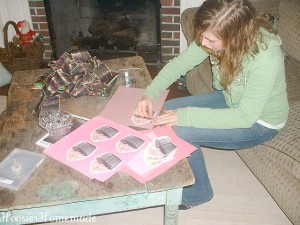 Then they threaded a needle with pink embroidery floss and strung it through the top of the cardstock. After hunting all over the Christmas section at Hobby Lobby and not finding pink bead garland, we headed to the craft section. We found these adorable pink beads in the party section, they were necklaces for a little girls party. We just snapped them together to make a long string of garland.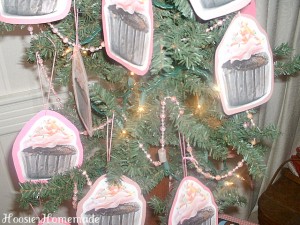 I set my tree up on a side table, added a pink gingham piece of fabric and a scrap of cupcake fabric.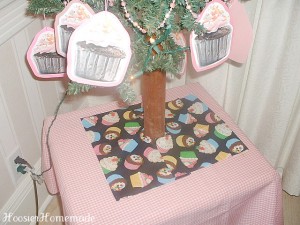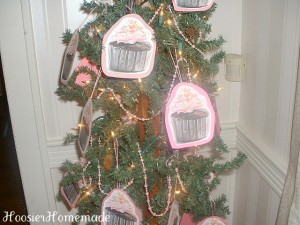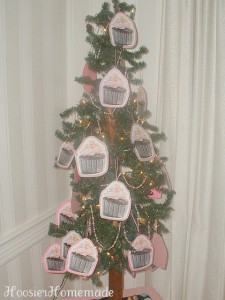 Total cost for my Adorable Cupcake Tree = $3 for garland
I spent a little on ink to print out the cupcakes and a little on paper, but I had everything on hand, including the cardstock in my stash.
Hopefully, after Christmas, I will have time to make some of the Cupcake Ornaments that I made for the Ornament Exchange.
If you missed our Family Tree and our Living Room decorations, please take a peek. I will be sharing the rest of my home and all my trees soon, so stay tuned. And if you aren't a subscriber yet, please help me out and sign up, I'd really appreciate it.

This post linked to: