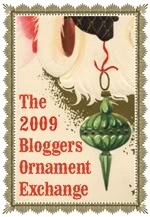 When I signed up last month for the Bloggers Ornament Exchange hosted by Pampering Beki, I wasn't really sure what I was going to do.  I knew I wanted to make an ornament, it had to be "homemade" and from the "hoosier" 🙂
So, after much thought, what better way to say, "it's from Hoosier Homemade" than to make a cupcake. But how, oh, how am I going to sew a cupcake. For my first attempt, I filled white material with fiber-fil stuffing and try to glue it into a silicone cupcake liner. Well, that didn't pan out too well, so I moved onto a flat version, made from felt. And it worked out beautifully.
I had my son help me draw a template (I'm not much of an artist), then I traced the pieces onto copy paper and cut them out. Using the pattern pieces, I cut out 4 pieces, a top, a bottom, and 2 large pieces to sandwich everything together with.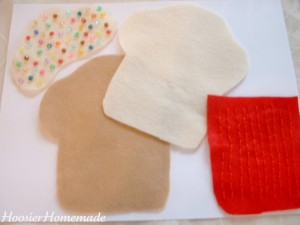 I hand sewed the beads on the top to look like sprinkles and sewed lines in the bottom to give it definition (sorry no individual picture, just the one above)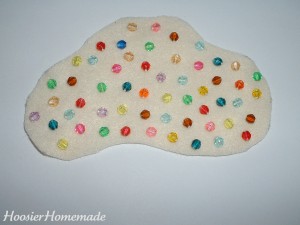 I glued on a string for a hanger, and glued all the layers together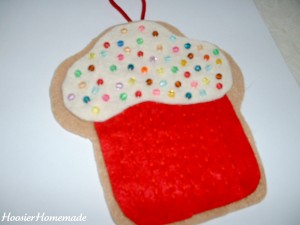 I'm not going to spoil the surprise and tell you who I sent it to, because she probably didn't receive it yet. But if you did receive it, I love to hear from you in the comments. 🙂 I sure hope she likes it and thinks of me every year when she puts it on her tree.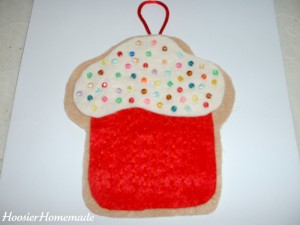 Over the years, many of my gifts have been handmade. I enjoy giving handmade items, whether I sew, craft or bake them.
If you follow my blog, you may or may not remember that I put up 7 Christmas trees, and they all have a theme. After making this cute ornament, I've decided to make a Cupcake Tree (#8) this year for my office. Stay tuned to see what I come up with.
Be sure to head on over to Works For Me Wednesday, where they are sharing gifts today.
This post also linked to:
~Frugal Friday hosted by Life As Mom
~Holiday Linky at The Inspired Room