So many of you loved the eBooks post we did a couple weeks ago that we have decided to bring it to you on a regular basis.  There are so many good ones this week like one full of Apple Desserts, which is perfect to kick off our Apple Week!  eBooks are a wonderful way to add to your recipe collection when your bookshelves are already full.
Whether you are looking for a fun cupcake, a new chocolate chip cookie recipe or perhaps you are preparing for the holidays and love baking pies or candies – here are 20+ Free or Nearly Free Baking Cookbooks for you to browse!  Some of the ones that we posted last week are still available so I left them on the list and added several new ones.  Enjoy!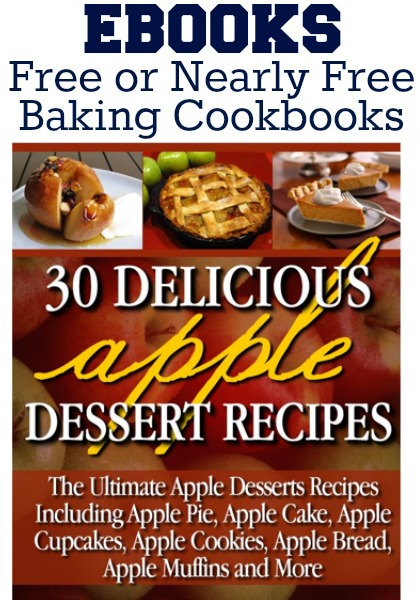 There are some really nice Kindle eBooks out right now that you can download.  Many of these are free or up to $1.99.  If you don't have a Kindle you can still read this on your computer, iPad, iPod, iPhone, or Android.
Remember that Amazon changes prices often so these may not be free for long.
Free eBooks
New This week:
Still Available:
Nearly Free eBooks
New This week:
Still Available:
Disclosure: There are affiliate links in the post. You can read my Disclosure Policy for more information.