Print
Zucchini Bread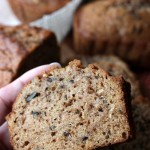 A recipe passed down from my Aunt. Recipe from HoosierHomemade.com
Ingredients
3 eggs
1 cup white sugar
1 cup brown sugar
1 cup oil
1 teaspoon vanilla
1 teaspoon cinnamon
1 teaspoon salt
1 teaspoon baking soda
1/4 teaspoon baking powder
3 cups flour
2 cups zucchini, grated
1 cup nuts, chopped (I use walnuts, but any are fine)
Instructions
Preheat oven to 350 degrees. Lightly grease and flour bread pans. This recipe will make 6 small loaves, or 2 large loaves, or a combination of the two.
Beat eggs in large bowl, until foamy.
Add sugar, oil and vanilla, mix well.
Add cinnamon, salt, soda, and baking powder. Mix well.
Add the flour and zucchini alternately, mixing well after each addition.
Fold in nuts
Bake for about 30-40 minutes for mini loaves, increase time, depending on the size of your loaf.
Notes
if you freeze the zucchini, just defrost and include all the liquid in your recipe as well.
By continuing to use the site, you agree to the use of cookies. more information
The cookie settings on this website are set to "allow cookies" to give you the best browsing experience possible. If you continue to use this website without changing your cookie settings or you click "Accept" below then you are consenting to this.