I had a hard time deciding what to post today, there is so much I want to share with you.
For some reason, maybe because I'm not a coffee drinker, I don't like making coffee. It's really not a big deal, but I'm just not crazy about doing it. So, to make it easier on myself and my husband, who is the coffee drinker, I make up a container full of coffee filters ahead of time.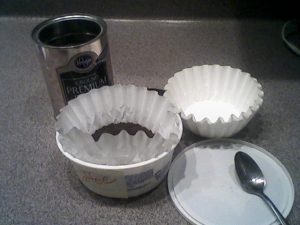 First I found a container that would hold quite a few (I usually do at least 7) coffee filters with coffee in them. I spooned the coffee into the filters, put the lid on and put it in the frig.
Then they are ready for me or my husband to get the coffee ready.
Please visit We Are THAT Family for more great Works For Me Wednesday inspiration.