Welcome to Cupcake Tuesday! If you are new here, grab a cup of tea or a glass of milk and enjoy a cupcake!
So, Cupcake Lovers…tell me, have you been enjoying all the Halloween Cupcakes that have been floating around Blogland? I'm having a blast with everything!
Halloween is one of my favorite holidays! The decorating, the food, the parties, the creativity, and especially all the fun cupcakes!
Did you ever come up with an idea in your head, then when you tried to re-create it, it just didn't materialize the way you imagined?
Well, Crashing Witchey Poo…started out REAL good in my head…but, well…she crashed…into a haystack 🙂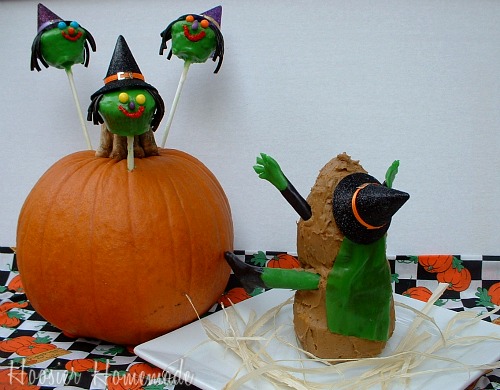 Looks like her flying friends made it into the pumpkin…but she didn't quite reach her destination!
Wait a minute…you are wondering, what does this have to do with cupcakes? Right?
The haystack (wanna be tree) is made with 3 sizes of cupcakes. I used a jumbo, 2 regular size and 1 mini cupcake, stacked them with a little frosting in between to "glue" them together and frosted the whole stack with brown Buttercream Frosting.
Witchey Poo is made by using the recipe for the Homemade Candy Corn, I colored it black and green, and formed her legs, boots, arms and hands out of the candy. The candy is formed around a lollipop stick, for stability, her cape is made from a fruit roll-up and the Witches Hats, I found at Hobby Lobby.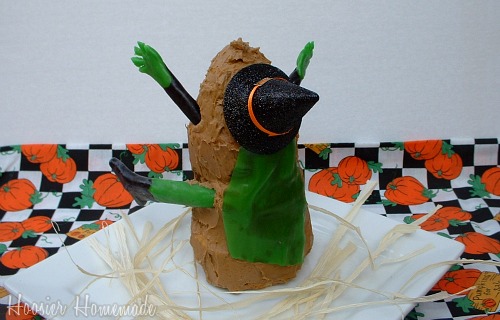 But of course, I couldn't stop there…I wanted to give you a little more inspiration…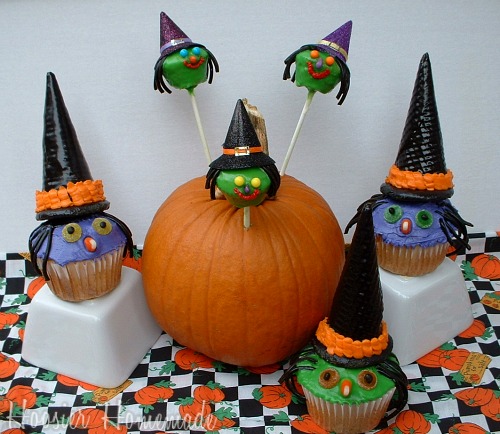 Print
Mini Witch Cupcake Pops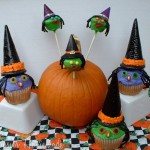 Make Mini Witch Cupcake Pops for Halloween – recipe from HoosierHomemade.com
Ingredients
Mini cupcakes (any flavor)
Very small amount of candy melts
Assorted candies for the face
Black licorice for hair
Red Buttercream Frosting for the mouth
Witches Hat (I found these at Hobby Lobby)
Instructions
Bake, cool and remove paper liner from mini cupcakes.
Place cupcake on lollipop stick, melt the candy and use to secure stick in cupcake, place in fridge to set up.
Mix Buttercream Frosting, tint green and melt in microwave for about 25 seconds, stir until melted.
Dip cupcake into frosting, tap off excess, place in styrofoam to hold the pops and place in fridge.
To Decorate
Cut strips of black licorice for the hair, place candy on for the face, pipe on the mouth with red frosting in your decorator bag (or use candy) and place hat on your Witch!
And the jumbo Witch, well, look for those in Cupcake Chronicles this week! Not a subscriber? Please sign up in my sidebar, I'll be sharing some fun FREE Printables this week.
Enter your Halloween Cupcakes over at Passion for Parties!! She is hosting a $50 TomKat Studio giveaway!! How fun…love their work!
Holiday Cupcake Challenge:
We had so much for with the Summertime Cupcake Challenge, we decided to host another month long event!
The Details…
When: November 2 – 30th, every Tuesday, right here on Cupcake Tuesday
What: Holiday Cupcake Challenge (Thanksgiving, Christmas and New Year's)
Challenges:
Week #1 – Seasonal Flavor, share your favorite cupcake flavor of the season…pumpkin, peppermint, sangria, or get creative
Week #2 – Thanksgiving, share your themed cupcake design
Week #3 – Christmas or Holiday, share your themed cupcake design
Week #4 – New Year's, share your themed cupcake design
Week #5 – Re-cap, share a post with all your cupcakes from the Challenge
Voting: This time around the bakers, their readers and my readers will be able to vote for their favorites. Each linky will stay open for 1 week, the following week you will vote on the prior week's entries, and so on.
Prizes: I've secured a couple giveaways, and am still working on a couple more. I will announce them when they are all secured.
Be sure to head on over and link up to Delicious Dishes (Tues a.m.) on It's A Blog Party, my other blog, where I host a different linky party everyday!
Now, it's time to share your creations! Please be sure to link back to this post so your readers can enjoy all the entries and visit one or all of the participants.