Are you a Black Friday shopper?!
Walmart has released their Black Friday Ad early so you can get a jump on your shopping plans. You can find the ad on the Walmart website on the local ad page. There are great deals all day long with some starting as early as 10 p.m. Thanksgiving Day to give you an even earlier start to your shopping.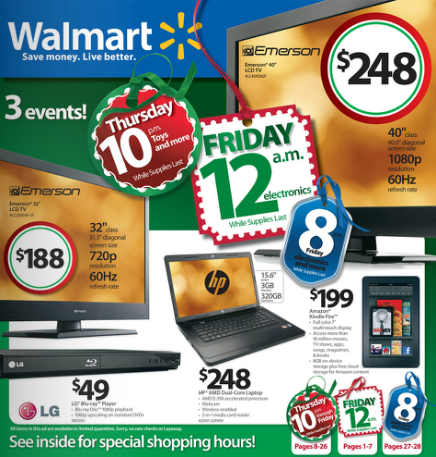 Reviewing the ad brings back memories of years past when the kids would spend hours looking over store ads and circling what they wanted for Christmas. After they were finished with the ads you could barely read them.
And don't forget that Walmart is making your holiday shopping even more worry free this season with their Christmas Price Guarantee and Ad Matching Policy
There are deals and specials in nearly all the departments so don't skip a single page!
Big News, Big News…
Walmart has announced that their Layaway desk will be open on Black Friday!!!
The Details…
The Layaway desk will now be open on Friday November 25 (Black Friday) starting at 8 a.m. in most stores.
Eligible toys & electronics can be put on layaway, including the special savings items at 8 a.m.
Items included in the limited time or "while supplies last" 10 p.m. and midnight events will not be eligible for layaway prior to 8 a.m.
Note: in NY, not all stores may be able to offer 8 a.m. items on layaway. Customers should check with their store management for more information.
In other Walmart news…

Walmart just updated their iPhone and iPad apps. Since I am the new, proud owner of an iPhone, I wanted to give the app a try.
Here are some of the details I thought you would enjoy…
Budgeting tools: Calculate total price in real-time as specific items are added to mobile shopping lists.
Manufacturer's coupons: View applicable manufacturer coupons for products carried in local Walmart stores.
Sharing: Email shopping list to friends and family.
Walmart is also giving back this holiday season with the "12 Days of Giving," a way for users on Facebook to nominate local nonprofits for funding and they have $1.5 million to give!!  They are looking for organizations that are fighting hunger and providing basic needs items like diapers, baby formula or cold weather clothing to those in-need. Head on over to the Walmart Facebook page and nominate until November 30th.

Disclosure: This post is part of a campaign I am participating in with the Walmart Moms. Walmart has provided me with compensation  for this post. My participation is voluntary and opinions, as always are my own.