Today I'm participating in the Ultimate Blog Swap. You'll find me posting over at Family Balance Sheet about Organizing, and I'm excited to welcome Jennifer from In the Shadow of Grace to Hoosier Homemade…
Hi! My name is Jennifer, I live in Canada (Manitoba to be exact) and I blog over at In the Shadow of Grace where I write about my life and all it entails- parenting, teaching, church and home. I am a relatively new DIY/crafter. In fact, I've spent most of my life being the nerdy sports jock, but never the crafter. I actually spent most of my twenties scoffing at the women who did do crafts (to which all I now profusely apologize- it really is as much fun as you said it was!). So when my friend invited me to join her blog's "Springsation" craft challenge, I jumped at the chance. Monique sent me a package with the following supplies: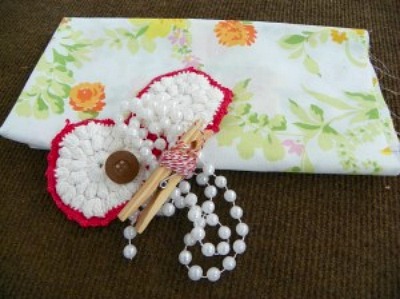 Included was about a half metre of fabric, a crocheted doily, a clothes pin, string, pearls and a button. My challenge was to make something that used all of the materials provided. I could supplement with other materials, but everything that was sent had to be used.
So, as I do when I'm looking for inspiration, I checked out Pinterest to see what could stimulate some great inner crafter that I was hoping had laid dormant for many years. And, of course, I found much to inspire. After trolling through a few sites, I decided on making a combination of these two: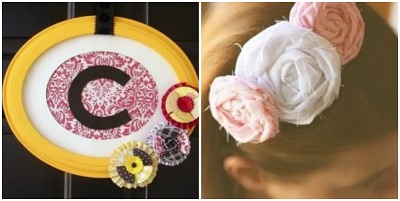 I was hoping that the dormant crafter in me could do make something that 1) I wouldn't be afraid to share with my friend, and 2) I wouldn't be afraid to display it on my door. So I made the next logical step and dragged my husband and two boys to Michael's to pick up the extra supplies that I would need.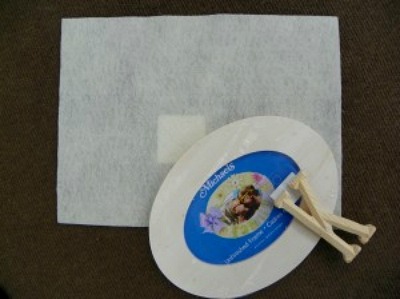 I grabbed a piece of felt, a wooden frame and a wooden letter. And then, I'm ashamed to admit, I had to buy a glue gun (yes, this newbie crafter didn't even have a glue gun). But I picked up one that seemed to be all I would ever need and I was even able to use my 40% off coupon for (yeah me!)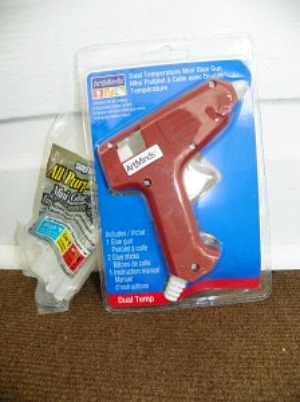 With my boys down for their afternoon nap and my husband proofreading an essay for me (I am married to the most wonderful man) I got crafty in the sunroom. Lots of natural light, a plug in, and a door that I could shut to keep out curious eyes and hands. As this was my first time being truly crafty, I knew this was going to take me at least one full day, maybe more.
I started with cutting out the felt to make the backing for the rosettes. A glass bottom and packing tape roll made convenient circles. Not too difficult. I was feeling mighty good about myself.
Next I made tiny snips in the fabric every inch or so, and then worked out my aggressions by tearing the fabric. I felt very Incredible Hulk for the few minutes it took.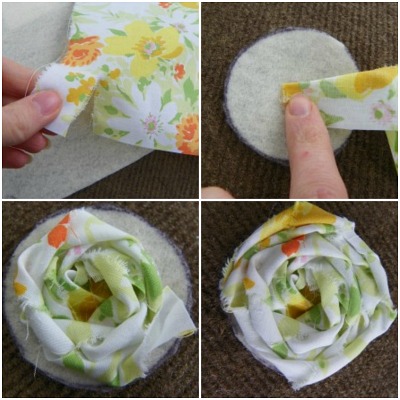 Then I took a deep breath, picked up my newly initiated glue gun, and began to try and make a rosette. Now, for those who know me, I am the mother of a three year old and a one year old boys. I don't necessarily do flowers and bows and such; my world revolves more around trucks and dinosaurs, but I was amazed at how easy these were to make. One dob of glue in the middle of the felt, attach the end of the fabric, and then twist and glue around the centre until the rosette is complete. Darling, isn't it?
I was quite impressed with my new found crafty ability. I made five more of various sizes. Then I pulled out a grape vine wreath that I have had sitting in my front closet for months. After trying out a few different variations on placement, I figured I had made as many rosettes as I had needed and moved on to the next step.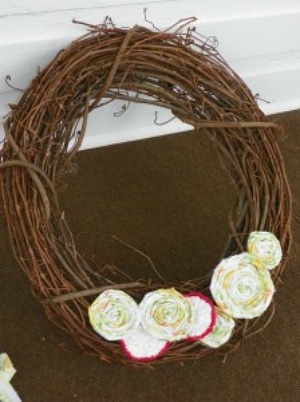 After painting the clothes pin, wooden frame, and the letter with regular dollar store acrylic paint (yellow and green) that I keep around the house, I went to work covering the mat for the frame with the given fabric. I experienced my first glue gun burn here (insert quick gasp of air and lip biting to keep from saying anything I would regret). I'm hoping to have fewer burns as I get used to being crafty.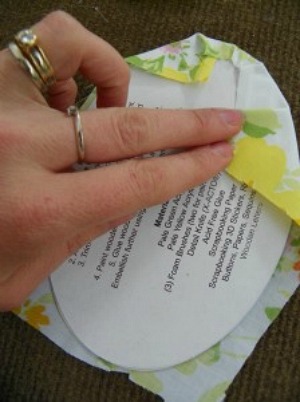 With the fabric framed and the "K" glued on, I started the next step of gluing everything on. At this point my three year old had woken up and wanted to help. He tried to help me wrap the string around the pearls to make the rosette centres, but quickly lost interest. He was pacified by helping me cut out letters on my Cricut (of which I am a huge fan. If you don't have one of these, they are worth every penny!) I then painted the paper letters to match the wooden one and Mod Podged them on the frame before attaching a ribbon to hang it all by.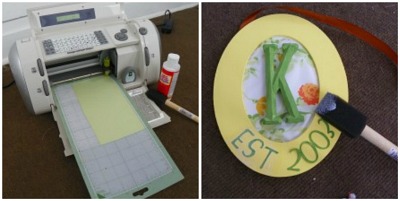 The last step was attaching the pearls to the flowers. Super quick with my nicely-coming-along glue gun skills.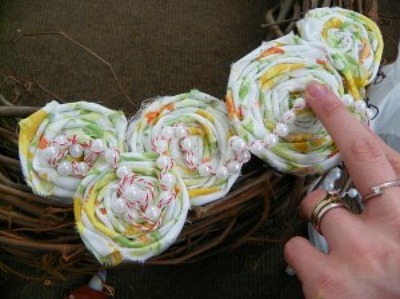 After a final dab to secure everything with hot glue, I proudly called my husband and son in (Payton had abandoned me to my crafts in favor of video games with his father by this point). They smiled and complimented me, and then Payton tugged his father back to the living room. I wasn't expecting a party, but was hoping for a bit more of a reaction than this. But I will forgive them because they are boys and couldn't
possibly appreciate my new craftiness (I think it may actually scare my husband). Now, this is what my front door looked like previously: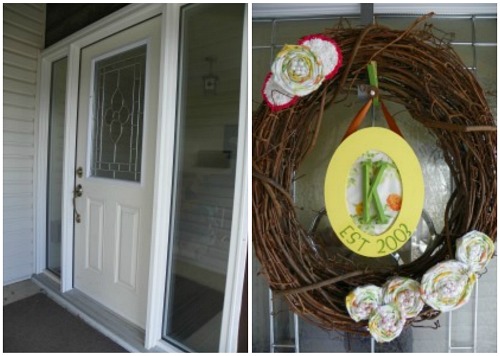 Drab and boring, right? And this is what is hanging on it now:
Not too shabby for a first time DIYer, eh? Thanks to Liz for inviting me over to her blog to participate in the Life Your Way Blog Swap. I have enjoyed my time here. Feel free to visit me over at In The Shadow of Grace. Blessings!
Visit Life…Your Way to see all of the Ultimate Blog Swap participants!