There are many things that bring a smile to my face…and our cat, Kali is one of them. You may remember our little kitty saga from last Fall, when Kali slipped out the door and was gone for over 2 months. We did everything we could think of to find her, and had just about given up, then a very kind gentlemen returned her on Halloween.
Need I say…ever since her return, Kali has been a bit of a queen in the house. So when the Temptations sent us some treats for Kali to try, I knew she would love them.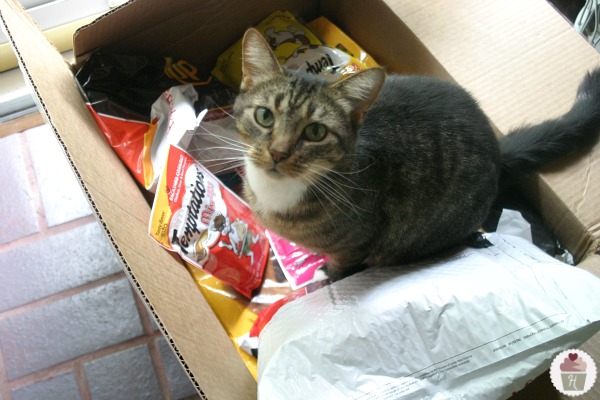 And I was right…before we even got the box unloaded, she jumped right in and starting getting into the treats.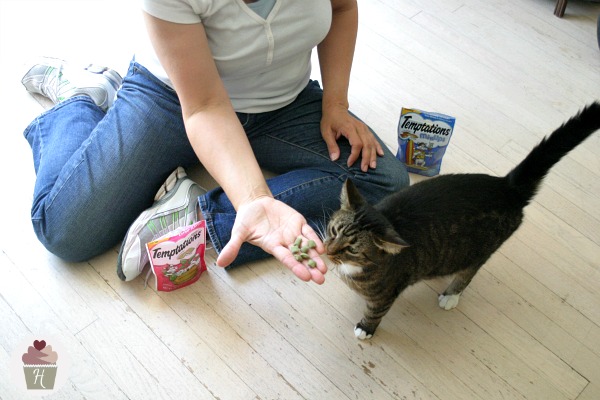 Temptations are only 2 calories and come in 21 varieties. And at around $2 per bag, they are a great value! I think the photos will show you just how much Kali loved the Temptations Cat Treats…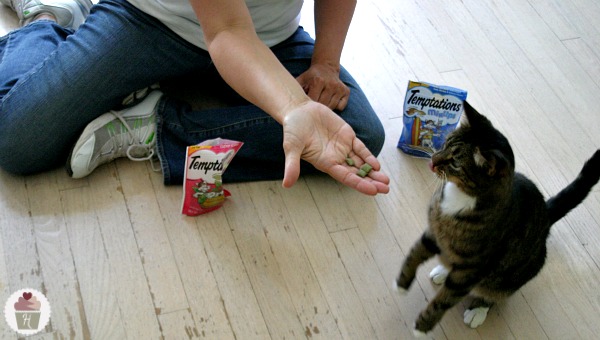 Yes, that's her tongue sticking out…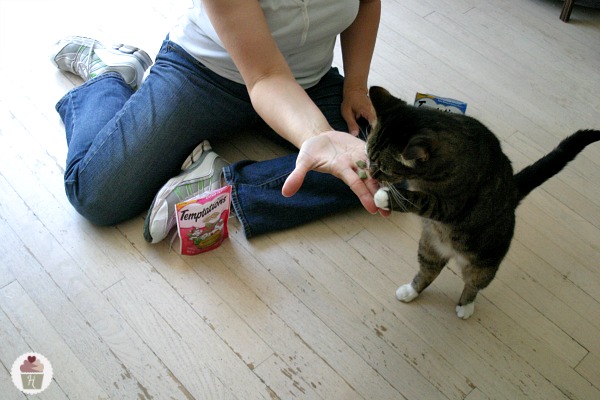 Up on her hind legs, eating the treats from my hand…I'd say she loved the Temptations!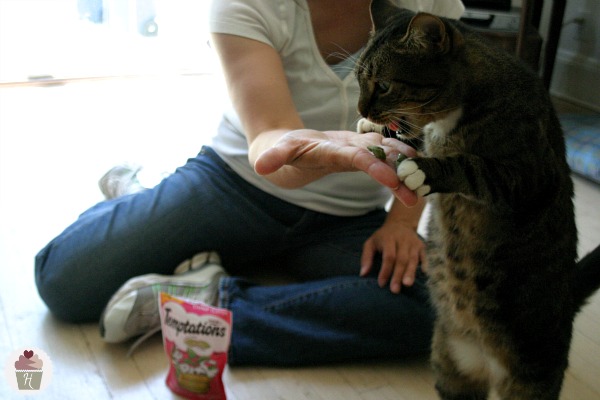 I just had to include this photo…hilarious! She was a little excited, wouldn't you say?
Did you know that 60% of cats aren't fed any treats at all or given the protection they need from fleas and ticks? Since May is Pet Month at Walmart, Temptations and PetArmor wants your pets to have the best.
PetArmor contains fipronil, the same #1 active ingredient recommended by veterinarians and the same flea and tick protection as Frontline Top Spot, but at about half the cost, and provides full-body protection to help keep our pets flea and tick free. And they stay gone for 30 days, even new fleas that hatch later will be controlled when they jump on our pets.
We have been using PetArmor on our dog, Rocky and on Kali for over a year now. The results have been great…not a flea or tick on either of them!
During the month of May any PEDIGREE purchase made in Walmart will generate a bowl of food to a local shelter. You can also help shelter pets in need by participating in the PetArmor Protection Promise! Now through May 2012, one flea and tick treatment will be donated to the ASPCA, or to a shelter of your choice. (up to 20,000 doses). Just a couple clicks is all it takes to help! Head over to PetArmor Facebook Page to help out.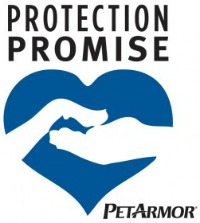 Disclosure: This post is part of a campaign I am participating in with the Walmart Moms. Walmart has provided me with compensation and product for this post. My participation is voluntary and opinions, as always are my own.