This giveaway is now closed
You may remember at the beginning of February, I hosted a Valentine Party. I offered a super cute Tile Pendant made by Queenie Designs.
Well, I love her work so much, I thought it would be fun to have a pendant that had Hoosier Homemade on it, and of course, a cupcake 🙂
So, I sent her an email and within the day, she had my design done and made the pendant for me.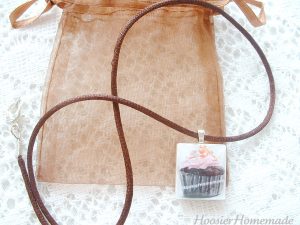 I would have been more than happy to pay her for it, but she graciously sent it to me as a gift.
So, because I love her work and I love my readers, I thought it would be a great giveaway for my Blogging Anniversary Celebration this week.
Here is the picture she sent me, it's a little better than mine.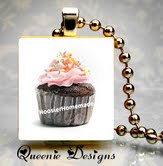 My only regret is that I didn't ask her before going to the Blissdom Conference. What fun it would have been to wear it there. But, that's okay, I have lots of conferences in my future to wear it.
Be sure to enter my other giveaways that I'm offering this week to celebrate my Blogging Anniversary.
~Photo Album & Pillsbury Orange Sweet Rolls (ends Mon. March 1st)
~Hello Cupcake Cookbook (ends Tues. March 2nd)
~$20 New Customer Gift Card (ends Wed. March 3rd)
So, here's the low down…
Queenie will make a special pendant for you with your blog design, button etc on it, the winner will need to email her a picture of what you want. Then, I will settle up with her, because…well, she has already provided my readers and myself with some free items.
Giveaway Guidelines:
Please leave a seperate comment for each entry.
Leave a comment telling us your favorite pendant in Queenie Designs Etsy Store.
Make a purchase from Queenie, she has some really cute Spring pendants, they would make great Easter basket treats. Be sure to come back and leave a comment telling me you bought something.
Follow me on Twitter, and leave me a comment with your Twitter ID, if you already follow me, just leave me a comment.
Tweet about the giveaway including @HoosierHomemade in the tweet and a link to the giveaway post. Leave me a comment.
Become a subscriber, leave me a comment.
The Giveaway will be open until Thursday, March 4th, 8 p.m. CST, the winner will be notified and have 48 hrs to claim their prize.