Fall! It's the time of year to decorate, bake, visit the orchard for apples, pick a pumpkin from the patch, dress up in your favorite costume and go Trick-or-Treating, Boo the neighbors…and well, of course, build a Pumpkin King!!
On Monday, when I shared our Menu Plan for the week, I teased you a little with this picture of a pile of limbs…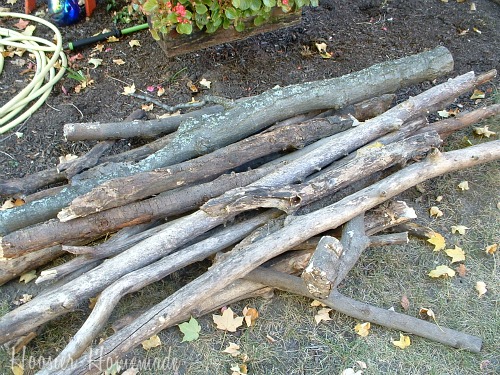 Sometimes Doug and I have GREAT days…our creativity flows and things go together very well, like Sunday, while we were building The Pumpkin King…and then there are days, that not everything goes according to how I plan it in my head.
I'm thankful for the days that go well, and VERY thankful for a husband that helps me and puts up with my crazy ideas.
The Pumpkin King all started a few weeks ago while we were visiting our favorite farm stand in Southwest Michigan. We were leaving, and heading home when I spotted this awesome Scarecrow, of sorts, that had been built and displayed outside a restaurant. So of course, I quickly told Doug…"that would be awesome to re-create, my readers will love it!" and being the great hubby he is…quickly turned the Jeep around so that I could take pictures.
Well, it's a good thing I remembered at least most of the display, because during one of those days "when everything doesn't go as planned," I somehow erased the pictures I took.
The good news though…Doug and I were able to re-create it to share with you!
Enough babbling…right? Let me introduce you to…The Pumpkin King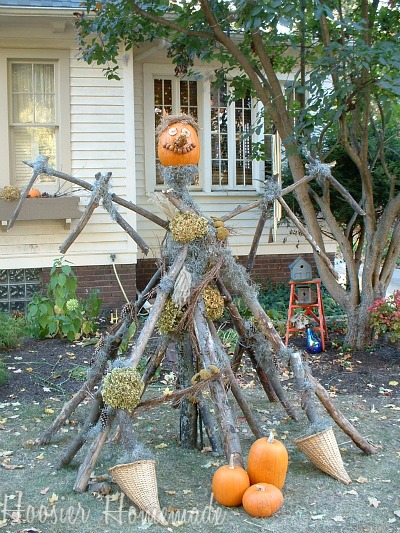 I'm excited to tell you too…that I did NOT erase the pictures of us building The Pumpkin King, so I could teach you how to re-create your own!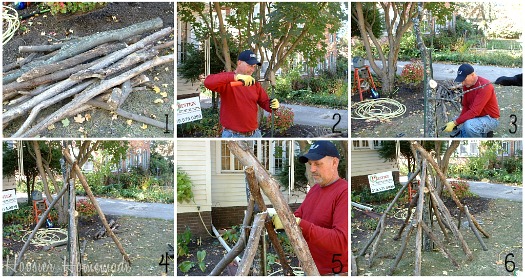 Gather a large amount of limbs, we started with about 30, with about 8-12 of similar size
Drive a metal post into the ground, making sure it's secure
Using the largest, strongest limb, place it next to the metal pole and sandwich another metal pole next to it. Secure it with screws
Place 4 "legs", cutting the bottom at an angle and securing them to the main limb with screws
Using heavy aluminum wire, secure all the limbs together
Place smaller limbs for the "feet" and wire them on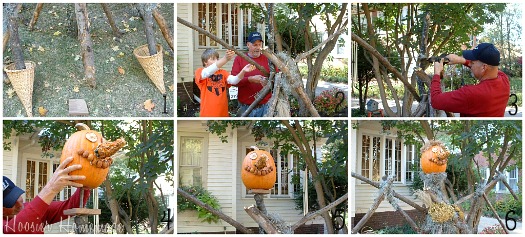 Next I added some baskets for the shoes, I happen to have 2 cornucorpia shaped baskets, but really, any type basket will do
Casey helped Doug attach the arms, again using the wire
Using a small chain saw, Doug sawed off the large middle limb, so we could attach the board to hold the Pumpkin head
Doug cut a small square board, used a drill to make a hole and attached a small stick to hold the pumpkin head in place
For the face I used, a gourd for the nose and dried apples and nuts for the mouth and eyes, from the same potpourri I used on the Fall Garland. I used Gorilla Glue (you can still see it a bit) and my hot glue gun to attach the eyes, nose and mouth
Now came the decorating; I used grape vine, spanish moss, pine cones, dried hydrangeas, yarrow and dried ornamental grass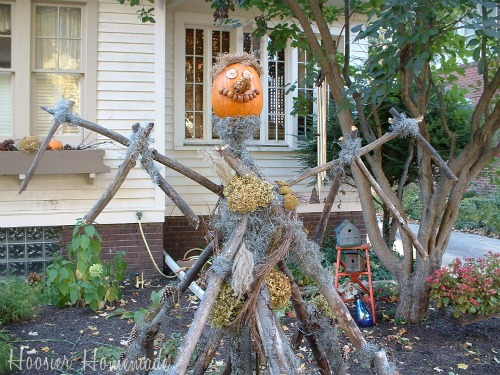 I'm so tickled with how he turned out! We live on a very busy street, and have had several people already comment on him. This thrills me!
Trick-or-Treat night we will pass out about 20 bags of candy, I can't wait until they all see The Pumpkin King!
Do you decorate outside for Fall or Halloween? Share your ideas!
Linking to… Fall Outdoor Spaces at Thrifty Decor Chick