One of the very first bloggers that I started following was Amy from Mom Advice. Her blog documents their struggle during a rough financial time and how they follow the frugal lifestyle through meal planning, family activities and decorating their home.
In The Good Life for Less, Amy shares how to serve your family great meals, enjoy good times and have a happy home while still maintaining your budget. The book is packed with great tips, that even after almost 25 years of marriage, I had never thought of.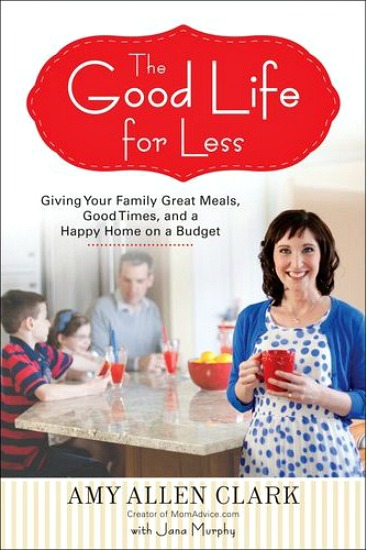 Here are some of the tips…
Check and double-check every bill, not only hospital bills which are commonly known for charging extra, but also your phone, utilities, cable, etc.  I honestly don't check our regular monthly bills for mistakes, most of them remain the same, so I just don't check, but I will now.
Use a kitchen timer set for 5 minutes in the shower, it will not only cut down on water, but also the electric bill for the hot water heater.
Consider bartering your talents for items you need. Over the years, Doug and I have done this many times, I have baked and Doug did yard work for others.
Use cash at the grocery store, only take your budgeted amount with you, if you don't have your debit or credit card, and only have a limited amount of cash, you are far less likely to overspend. We used to always use cash for everything, and then about a year or so ago started using the debit card, I can say first hand, that our spending as increased because of it. I will definitely be going back to cash for groceries.
Shop a warehouse club. This takes a little time on your part to compare prices, but you can save considerably on many products. Just yesterday, we stopped in to Sam's Club for a price on tires and decided to look around a bit. My son found the workout shake mix that he uses for 1/4 the amount he pays at the Health Food Store or online. On 3 products, we saved just over $100, which more than paid for our club membership. Also at Sam's, you can shop online and have them pick out your order and then you just pick it up, which is not only a time saver but also would save money, because the more you walk around the warehouse, the more you spend.
Meal plan…meal plan…meal plan! I have been planning our Monthly Menu for many, many years, and it's definitely a great money saver as well as time saver. You can see all our menus over on Pocket Change Gourmet.
Make birthdays special, but stay on budget. Hang a birthday wreath, like the one I shared, on your door. It's inexpensive and can be used for everyone's birthday, year after year.
Summer fun…for several years, Amy has created 100 Days of Summer, last year she added ideas to a Pinterest Board. After seeing her board, I wished my boys were young enough to do some of the things she had planned.
I could go on forever with the great ideas to help you live the good life for less. And like Amy said recently on Mom Advice, "This book is the handbook that I wish someone had given to me when I started my family."
I have learned countless things from Amy over the years and proudly call her my friend! She is an Indiana gal, with a heart bigger than Texas!
Whether you are looking to get your budget back on track or spend more time with your family, like me, I would strongly encourage you to buy The Good Life for Less!
Amy has graciously offered her book for a giveaway! Two (2) lucky Hoosier Homemade readers will get the pleasure of reading The Good Life for Less!
Be sure to join us as celebrate The Good Life for Less with a Twitter party on Tuesday, January 8th at 8 p.m. CST! Use hashtags, #GNO and #TheGoodLifeforLess
GIVEAWAY GUIDELINES: PLEASE read the Official Guidelines 
GIVEAWAY CLOSED –  Check the Giveaway Winners Page
Two lucky Hoosier Homemade winners will receive The Good Life for Less Book from Amy Allen Clark
Entries only accepted on this page. Facebook, Twitter or email entries do not count.
Giveaway will remain open until January 11, 2013 at 10 p.m. CST. Winner will be chosen at random, notified by email and will have 48 hours to respond.
REQUIRED ENTRY:
How do you cut back on your budget?
OPTIONAL ENTRIES: Please leave a separate comment for each entry
Disclosure: Products for review were provided by Amy Allen Clark. I received a free sample of the products for the purpose of this review and to facilitate a giveaway.  The opinions expressed herein are those of the author and are not indicative of the opinions of Amy Allen Clark or Mom Advice. There are affiliate links in the post.