It's no secret that I LOVE Taste of Home Recipes. In fact one of my most popular Fall treats, Pumpkin Cupcakes were made with their recipe.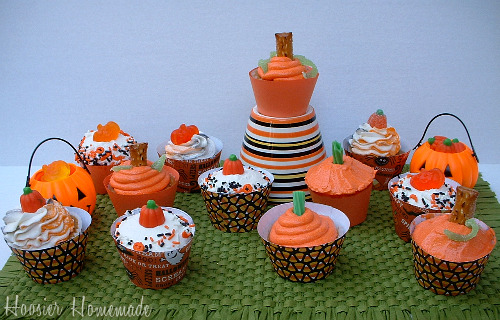 So when I was contacted to review the new Taste of Home Baking Cookbook, I was absolutely thrilled, little did I know…this book is like the Baking Bible! It has over 500 pages with nearly 800 recipes!!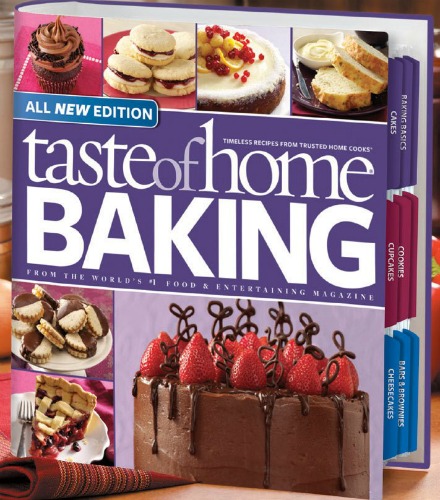 Inside you will find foolproof recipes for sweet treats, ranging from after-school snacks to grand finales that make a decadent dinner party complete, Holiday baking galore, from Halloween, Thanksgiving, and Christmas through spring and summer celebrations, trimmed-down favorites, specially designed for health-conscious readers or those who have food allergies, such as gluten-free options and of course , our favorite…a full chapter on the world's cutest cupcakes, including picture-perfect miniature Pineapple Upside-Down cakes and a cupcake inspired by Boston Cream Pie!!
Not only are there amazing recipes from home kitchens throughout America and Canada, there is also troubleshooting tips for the home baker, food equivalents, ingredient substitutions and the coolest idea I've seen in a cookbook ever, a plastic removable sheet that you can take out and put over the recipe to keep it from getting full of flour while you are baking.
Taste of Home has wrapped it all up in an awesome heavy-duty ring binder with glossy pages that make clean up a breeze. AND there is a card inside for a Free Subscription to their magazine! LOVE the Taste of Home Magazine too!!
I know you want one…don't you?
GIVEAWAY CLOSED
GIVEAWAY GUIDELINES:
One lucky Hoosier Homemade winner will receive the Taste of Home Baking Cookbook.
Entries only accepted on this page. Facebook and Twitter entries do not count.
Giveaway will remain open until Friday, October 21st. 2011 at 10 p.m. CST. Winner will be chosen at random, notified by email and will have 48 hours to respond.
REQUIRED ENTRY:
OPTIONAL ENTRIES: Please leave a separate comment for each entry
Disclosure: I received a Taste of Home Baking Cookbook for my review. As always, my opinions are my own.