While blog hopping recently, I came across http://www.lazyorganizer.com/blog/.  Lara has a wealth of information, including her "Talk About Tuesday."  Well, since I'm pretty new around here, I figured I would jump on board.
Today, I would like to share with you some of my frugal decorating ideas.  You have met my family in my first post, now you can see a little of my beautiful home.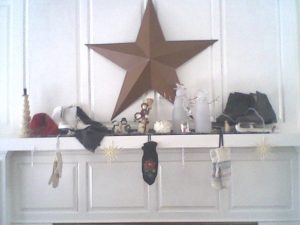 Among many other special decorations, I collect snowmen. On this shelf, I have put some skates that were found at the thrift shop, some mittens, hat and scarf from my childhood, some dollar store snowflakes and beads, and of course some of my favorite snowmen.
Here is a picture of the front of our home, during one of the many, did I say, many snow storms, we had this year.  On the windows, I taped hearts that were cut from construction paper. Oh, and of course, Rocky, our black lab.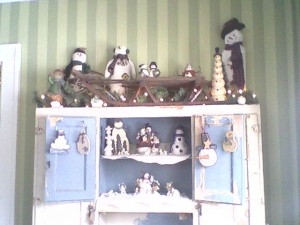 This is my Hoosier Cabinet, decorated with some of my snowmen. My father-in-law, Don Latham, gave us the cabinet about 15 years ago.  It was stored in his barn, along with many other treasures.
For more Talk About Tuesday, please visit http://www.lazyorganizer.com/blog/