After sharing my Winter Decorations last week, I had a comment from a reader about how I decorate and not make it jumbled looking. So, I thought I would share with you my tips for decorating your mantle.
These decorating tips are not only good for your mantle, but can also be used to decorate a shelf, entertainment center and any other surface that you need to add a special touch to.
I have combined the pictures into a collage to shorten the post some.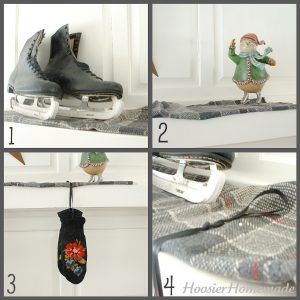 Begin by adding a warm, wool or flannel piece of material and then add a large item, such as skates (purchased at Goodwill for about $2) to one end of your mantle
Add another large item, like the snowman, on the other end. It's good to have a large item at either end to give balance
Then I added the mittens, I tied a ribbon to each mitten to attach them together
And then I simply pin them onto the fabric to secure them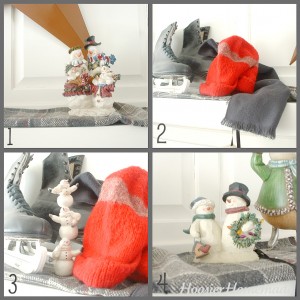 Next add in more snowmen, not quite as large as the one on the end
And add a warm flannel scarf and bright colored hat
I tucked in a medium size snowman near the skates
And placed a medium size snowman at the other end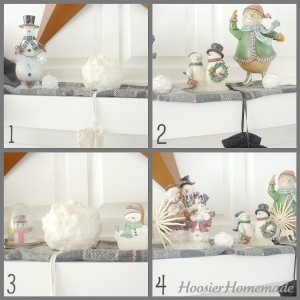 After adding another snowman, I added a large snowball shaped candle in the middle of the mantle
I added in several small snowball shaped candles. I bought these many years ago, I'm sorry I don't remember where I bought them, but you could easily use any white candle.
Add in some small snowmen, the one on the left is a snowglobe. I like mixing different textures.
Then I added in some snowflakes, that I bought at the Dollar Store.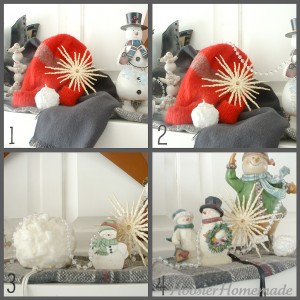 I tucked in a snowflake by the hat and scarf
Added some clear beads for a little shimmer
Beads draped in the middle over the large snowball candle
And at the other end
The Finished Winter Mantle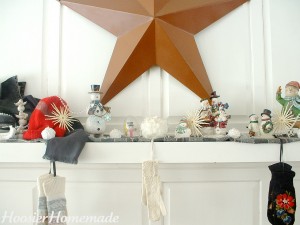 This post linked to:
~Mantle Party hosted by The Stories of A to Z
~Winter Linky hosted by The Inspired Room
~Frugal Fridays hosted by Life As Mom
~Friday Show and Tell hosted by My Romantic Home
~DIY hosted by Funky Junk Interiors
~Creative Cats hosted by Poppies at Play