Print
Taco Soup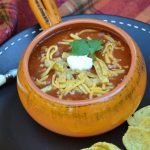 Ingredients
1 pound Ground Beef
1 small Onion, chopped
1 can (48 oz) Tomato Juice
1/3 cup Sugar, a little less
1 cup Frozen Corn
1 package Taco Seasoning
1 can Chili Beans
Instructions
Cook Ground Beef and Onion, drain. While Beef is cooking, add all ingredients to the crockpot.
After the Beef and Onion are drained, add them to the crockpot. Simmer on low for 4 hrs or on high for 2 hrs.
Serve with crushed tortilla chips, shredded cheese and sour cream.
By continuing to use the site, you agree to the use of cookies. more information
The cookie settings on this website are set to "allow cookies" to give you the best browsing experience possible. If you continue to use this website without changing your cookie settings or you click "Accept" below then you are consenting to this.