Let me tell you, if you have a Staples Office Supply Store anywhere close to you, you should be taking advantage of their Rewards Program. The biggest benefit is that they pay you $3 for every ink cartridge that you turn in for recycling to them. You don't have to purchase it there, or buy a new one with the Rewards money.
Today I took a Rewards check for $9 into Staples and got all these supplies for Free!
My total for the ream of paper, dividers and paper clips was just under $9, so, darn it, I just had to grab a bag of M&M's. I paid $.49 for everything!  And I turned in 3 more cartridges and I will receive another $9 Rewards check.
The CVS in our town has been torn down and they are re-building, so the temporary CVS does not have very much. I happened to be in a nearby town today, with my son, getting an MRI on his knee, so we hit the CVS there for a couple deals.
Cascade $3.99 (sale)
Dawn $.99 (sale)
Charmin $5.88 (sale)
Gum $4.00 (sale for 2)
Used $1.75 in MQ
Used $7.89 in ECB
Total spent $5.22 (plus tax)
And received $1 ECB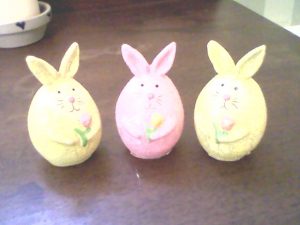 I also found these adorable little bunnies on the 90% off shelf! Yep, they were only $.09 each! What a great deal!
So, that put my total for the trip $6.08 (with $1 ECB left)
And in my mailbox this week
The shaving cream wasn't in the mailbox, but it was free. I received it at a baseball game when I entered. Not quite sure why they were giving away shaving cream, but hey, I wasn't complaining, I have 3 shaving men in the house right now! 🙂
Please visit these great carnivals for more deals:
~Super Savings Saturdays hosted by Money Saving Mom
~CVS Deals hosted by The "Cent"sible Sawyer
~CVS Deals hosted by Deal Seeking Mom