What in the world do you do with all those eggs? And the leftover ham? Here are a few ideas for stretching your Easter Dinner.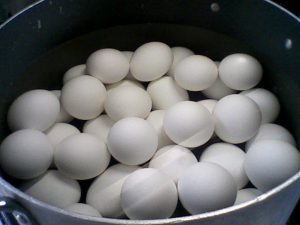 First, the eggs…
Of course, there is the usual Egg Salad Sandwich, I make mine with mayo, a little mustard, salt and pepper.  And also, Deviled Eggs, again I use mayo, mustard, salt and pepper. I also add a little dill seed too.
Here are a few more recipes you may like…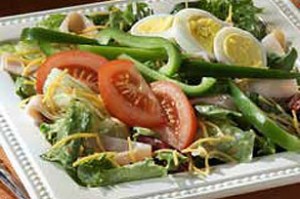 I think I will adjust my Meal Plan this week to include this salad. It will be great with the leftover ham, too.

Deviled Eggs from All Recipes.com
Now, onto the leftover ham.  The main way I use leftover ham is to chop it and add it to Scalloped Potatoes. My family of men, love this dish. You can also make Ham Salad. I chop the ham, and grind it in the Food Processor, then I add some mayo, salt and pepper. And, let's not forget the Ham Sandwich.
Baked Brunch Omelet from All Recipes.com
This would make an inexpensive meal too, since eggs are on sale right now.
Aloha Ham-Wiches from Kraft.com
This recipe calls for deli ham, but you could very easily substitute leftover ham, sliced thinly.
And these Ham & Cheese Stuffed Potatoes from Kraft, would be great to use any brocoli and ham that is leftover.
From our family to yours
May you have a Blessed and Joyful Easter
Liz
 For more Frugal Easter tips, visit Keeping the Kingsdom First and        Money Saving Mom for Super Savings Saturdays.