On Friday I had the pleasure of catering the Staff Luncheon at my son's school, Hailmann Elementary.  The teachers and staff were treated to lunch for the awesome work they did to help the children on their ISTEP testing.
Many of them were asking for the recipes, I thought it would be easier to put them all in one place.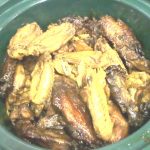 Chicken Wings with Honey BBQ Sauce  (Recipe from MomAdvice)
3 pounds Chicken Wings
1 c. Honey
1/2 c. Soy Sauce
1/4 c. BBQ Sauce
1/8 c. Vegetable Oil
1 clove garlic, minced
Season wings with salt & pepper. Place frozen wings on cookie sheet (needs to have a edge on it to catch drippings) and bake for about 20-30 min. at 400  Transfer wings to crockpot. Combine ingredients and pour over wings.  Cook on high for 2 hours or low for 4 hours.  Stir often.
Stuffed Baked Potatoes
Wash and dry potatoes. Sprinkle with salt & pepper, wrap in foil and bake for about 2 hours at 350.
Serve with Butter, Sour Cream, Bacon Bits, Brocoli, Green Onions and melted Cheese Sauce.
Cheese Sauce
8 oz. shredded cheese
1 can Cheddar Cheese Soup
3/4 c. Apple Juice
1 clove garlic, minced
Place in microwave and melt cheese for 2-3 min.
Twix Bars  (Recipe Here)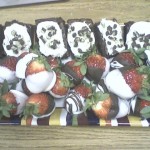 Chocolate Dipped Strawberries
Wash and pat dry strawberries, melt chocolate almond bark in microwave for 2 min. Dip strawberries and place on wax paper. Melt white chocolate almond bark and drizzle over chocolate. Place in frig to firm.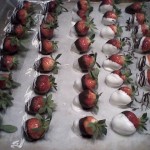 Cupcakes  (Recipe Here)
Peppermint Brownies  (Recipe Here)
You can find all of these recipes on the Mixing Spoons page.
We also had a drawing for one of my bags, and Mrs. Flodder was the lucky winner.
Thank you to Mrs. Sanders and Mrs. McEathron for giving me the opportunity to cook for Hailmann.
Please visit The Lazy Organizer and Talk About Tuesday for some more great inspiration. And Blissfully Domestic for some yummy recipes.