As you all know, I have a huge sweet tooth! The majority of what you find here is yummy, delicious, ooey, gooey, baking recipes!
I have a little secret though…I'm a little worried about diabetes. My grandmother and father both had it, and I'm sure to be in line for it too. I'm praying that I don't get it, but honestly, I'm quickly approaching the age where I need to be strongly thinking about it.
My love for baking will never end! It's my passion!!! And I love sharing recipes with you!
But…what about those that can't or don't want to eat sugar? Recently I had the opportunity to give the New Splenda Essentials a try. I was totally shocked with the amount of great recipes that you can make with Splenda.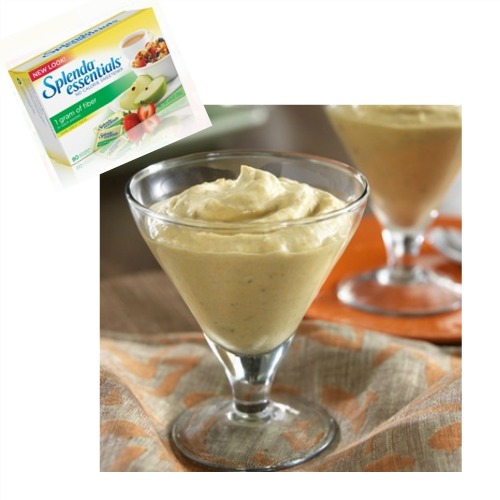 Now I know it's important to cut back on the sugar intake, but we also need daily nutrients and vitamins. Splenda Essentials No Calorie Sweetener Products is the first and only line of sweeteners that contains added nutrients in each packet, helping me get more from what I put in.
This Banana Pumpkin Mousse is a perfect Fall Treat! With the added boost of Splenda Essentials with Fiber, you can make a delicious dessert that also gives you more than just the benefit of reducing calories from sugar.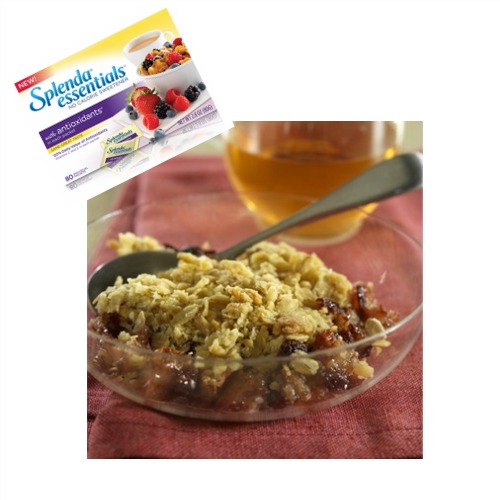 Or how about this Pear Cranberry Crisp? The Splenda Essentials with Antioxidants also provides added essential vitamins C and E.
Splenda Essentials No Calorie Sweetener Products aid in maintaining a healthy lifestyle by allowing me to experience sweetness without the added calories from sugar and by providing an added boost of essential vitamins and fiber.
Splenda would like you to give the Essentials a try too!!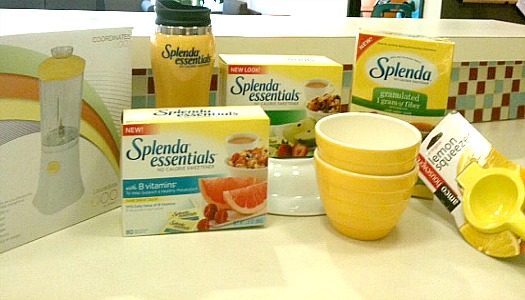 Also be sure to visit the Splenda Brand Facebook page and click on the new ESSENTIALS tab, you can request a free sample of the new Splenda Essentials product and share with other users what's 'essential' to you.  By doing so, you will be entered for a chance to win a travel mug with a $25 Dunkin' Donuts gift card! Three lucky winners will be announced each day— but that's not all. For every 10,000 sample requests received, the Splenda team will give away a $1,000 Visa gift card!
GIVEAWAY CLOSED
GIVEAWAY GUIDELINES: Winner will receive a Splenda Essentials Prize Pack containing…
One (1) SPLENDA

®

ESSENTIALS

TM

No Calorie Sweetener with B Vitamins

One (1) SPLENDA

®

ESSENTIALS

TM

No Calorie Sweetener, 1 gram of Fiber packets

One (1) SPLENDA

®

ESSENTIALS

TM

No Calorie Sweetener, 1 gram of Fiber granulated

One (1) SPLENDA

®

ESSENTIALS

TM

No Calorie Sweetener to-go mug

One (1) Splenda-yellow blender
Two (2) Splenda-yellow bowls
One (1) Splenda-yellow fruit juicer
Giveaway will remain open until Friday, September 16th 2011 at 10 p.m. CST. Winner will be chosen at random, notified by email and will have 48 hours to respond.
Entries only accepted on this page. Facebook and Twitter entries do not count.
REQUIRED ENTRY:
How do you love to use Splenda?
OPTIONAL ENTRIES: Please leave a seperate comment for each entry
Disclosure: I received samples of Splenda Essentials and compensation for this campaign. The opinions and text are all mine.
The photos are courtesy of Splenda, the collages are my own.