Summer is in full swing; the kids are out playing, parents are grilling out, and the weather is hot. But what happens when it gets too hot? You need something cold and refreshing to beat the heat while you eat. Luckily Smucker's has just come out with some new flavors for their toppings, and they are delicious.
The first couple of toppings are hot milk chocolate and hot butterscotch flavors. Personally I loved the butterscotch, and the milk chocolate was very good too. These toppings are simple to use as well. All you need to do is pop the open bottle into the microwave for half a minute then it's good to go.
The other type of topping is Smucker's Magic Shell. This is where the magic happens, so to speak. It's so neat to have a topping shell on your ice cream, just as if you had gone out to get some. The flavors are just a topping on the…toppings. Both the root beer and pink lemonade flavors are delicious. I'd recommend both, but if I had to choose a favorite I'd choose the pink lemonade. But no matter what flavor or topping you choose, these toppings will be sure to add some nice variety to your next ice cream experience.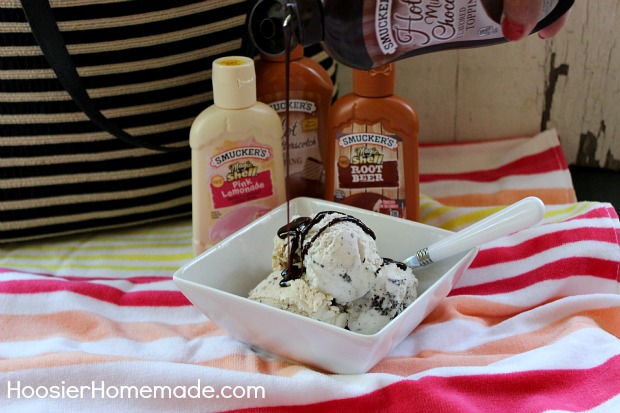 So next time your kids are out sweating in the sun, or if you just want to have an ice cream party, try out these new toppings.
We'll even give you a head start: thanks to Smucker's, we're giving out a prize pack that includes Smucker's Pink Lemonade Magic Shell Topping, Smucker's Root Beer Magic Shell Toping, Smucker's Hot Milk Chocolate Microwavable Topping,  Smucker's Hot Butterscotch Microwavable Topping, a beach themed disposable camera, a colorful beach towel, a Banana Republic beach tote bag, and a $50 American Express gift card to help with your big ice cream party. Have fun!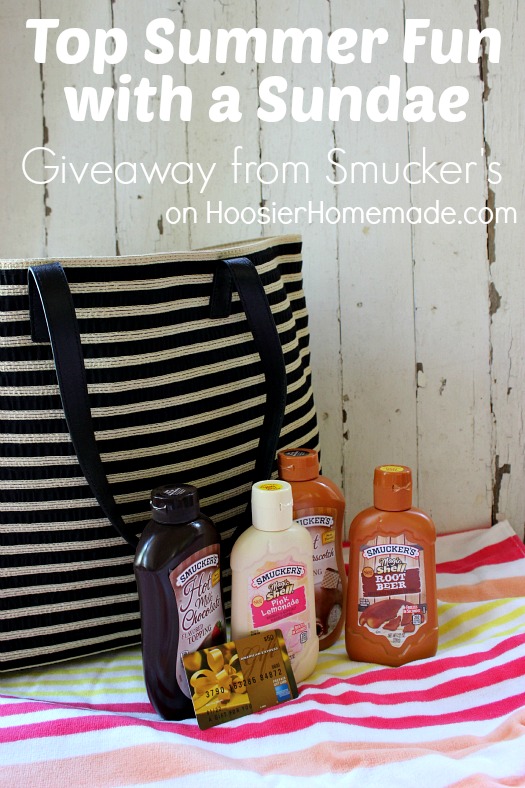 Enter to win
Please note that if you are enjoying this post via email subscription or in a reader, you will need to visit the blog to enter
Disclosure: Smucker's provided me with an Ice Cream Toppings Sundae Kit for my review. As always, all opinions are my own