It's time for the Cupcake Challenge! Are you ready for some serious fun? Life as been so crazy, busy for us lately…I'm definitely ready!
This week is our First week, so if you are just joining us, don't worry…you haven't missed a thing! Head on over and grab all the details and rules. And jump right in!!
Each week, there will also be a giveaway! Yay!! I'll be hosting the giveaway on a seperate post, just so each post won't be too long!
Wilton is hosting our Cupcake Challenge today! Don't you just LOVE them? Enter to WIN!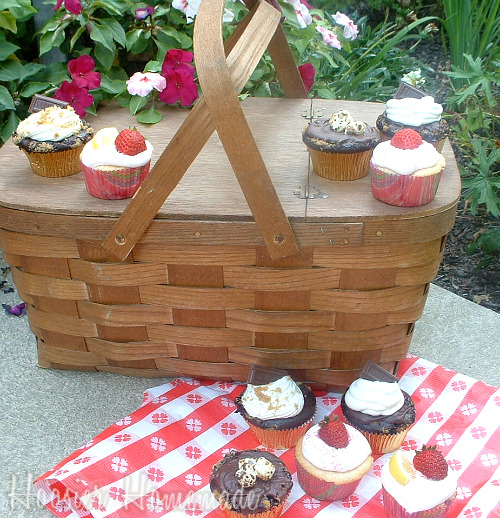 Summertime Fun! is our theme, and today is all about flavor. I'm sharing some S'More Cupcakes and Strawberry Lemonade Cupcakes! Sorry..I couldn't decide, we love them both.
But first…before I give you the recipes, I have a video for you…

I have had lots of questions about How I Decorate my cupcakes, what I use and the easiest way to do it. Since we are starting the Challenge today, I thought it would be a good time to fill you in a little. If you have any questions, please feel free to ask!
Print
S'More Cupcakes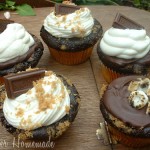 Ooey, gooey, S'More Cupcakes from HoosierHomemade.com are a perfect addition to your weekend campout.
Ingredients
1 1/2 cups flour, all-purpose is fine
1 1/2 cups sugar
1 teaspoon baking powder
1 teaspoon baking soda
3/4 cup cocoa
3/4 cup graham cracker crumbs
1 cup milk, divided
2 eggs
2 teaspoons vanilla, divided
1/2 cup oil, divided
Large marshmallows, cut in half
Graham Cracker Crust
1/2 cup brown sugar
1/2 cup graham cracker crumbs
1/4 cup butter, melted
Marshmallow Cream Cheese Frosting
1 Jar Marshmallow Fluff
1 (8 oz) block of Cream Cheese, softened
1 1/2 sticks Butter, softened
splash of vanilla
Instructions
Cupcakes
Preheat oven to 350 degrees. Place cupcake liners in pan, set aside.
In a bowl, combine the flour, sugar, baking powder and baking soda, whisk until combined.
Put mixture into a large (4 cup or large) measuring cup (I found it was easier this way) then divide mixture in half, place in 2 separate bowls.
Add graham cracker crumbs to 1 mixture, and cocoa to the other mixture.
Then into each mixture, add 1/2 cup milk, 1/4 cup oil, 1 egg and 1 teaspoon vanilla. Mix well. Not sure why…until I actually mixed them, I was a little confused (probably just me) anyway, you are going to have 2 separate mixes, 1 with graham crackers and the other will be chocolate.
Spoon a small amount (about 1 tablespoon) of the graham cracker cake batter into the liner, just enough to cover the bottom.
Sprinkle with Graham Cracker Crust (recipe below), top with a half of a marshmallow. Spoon on chocolate batter, enough to cover the marshmallow completely. Sprinkle with a little more Graham Cracker Crust.
Bake for about 15 – 18 minutes.
I added Chocolate Ganache and Marshmallow Cream Cheese Frosting! I toasted some mini marshmallows to add to the top of some, a few Graham Cracker Crust crumbs and a Hershey bar. Yum!
Graham Cracker Crust
Mix all ingredients well, and sprinkle on cupcakes.
Marshmallow Cream Cheese Frosting
Beat the cream cheese and butter until fluffy, add marshmallow fluff and a splash of vanilla.
Beat until well combined.
Print
Strawberry Lemonade Cupcakes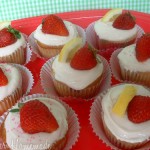 Delicious Strawberry Lemonade Cupcakes with Strawberry Lemonade Cream Cheese Frosting from HoosierHomemade.com
Ingredients
2 1/4 cups flour
1 1/2 teaspoon baking powder
3/4 teaspoon salt
2 teaspoon lemon zest
1 1/2 sticks butter, room temperature
1 1/2 cups sugar
2 eggs
3/4 cup milk
2 cups fresh strawberries, chopped
Strawberry Lemonade Cream Cheese Frosting
1 (8 oz) block of Cream Cheese, softened
1 1/2 sticks butter, softened
Strawberry Puree, about 4-6 tablespoons
3 teaspoons lemon juice
3-4 cups powdered sugar
1 teaspoon vanilla
Instructions
Preheat oven to 325 degrees. Place cupcake liners in pan, set aside.
In a small bowl or measuring cup, whisk together the flour, baking powder, salt and lemon zest.
In a large bowl, beat the butter until fluffy, add the sugar and beat until well combined.
Add the eggs, one at a time, beat well until well combined.
Add half of the dry ingredient mixture, beat well.
Add the milk, beat, scraping down the sides of the bowl.
Add remaining dry ingredient mixture.
Fold in chopped strawberries.
Bake for 15 -20 minutes or until a toothpick inserted comes out clean.
Place frosting in a decorator bag and pipe onto cupcakes, decorate with a strawberry, piece of lemon or a little Pink Sugar.
Frosting
Whip the Cream Cheese and butter until light and fluffy. Slowly add the powdered sugar. Mix in the puree, lemon juice and vanilla. You may need to add more powdered sugar depending on the consistency.
How to Make Strawberry Puree
Chop about 1 cup of fresh strawberries. Place in Food Processor and puree as fine as possible. Then remove and strain. Using the back of a spoon, push strawberries thru strainer, smashing them.
%https://hoosierhomemade.com/wp-content/uploads/Strawberry-puree1.jpg
Wow! I think that was the longest post ever! I hope you are still hanging with me!
Here is how this is gonna work…
Cupcake Tuesday – if you have a Cupcake to share for Cupcake Tuesday, please add it to that linky
Cupcake Challenge – if you have a Cupcake, that follows the theme, please add it to that linky PLEASE be sure to follow the Cupcake Challenge rules, I will need to delete you if you don't, because Alan from What's New Cupcake is judging and I don't want him to get confused. thanks!
Wilton Giveaway – Head on over and enter to win!! (see I told you this was gonna be a long post)