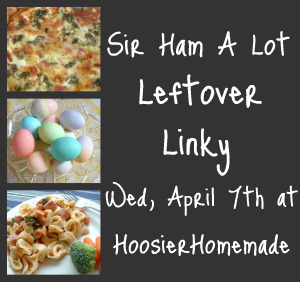 I just love cooking holiday dinners, and most often, I cook way too much food and have tons of leftovers. We enjoy Scalloped Potatoes and Ham, but this year I wanted to make some different meals. Crystal over at Money Saving Mom gave me a super good reason to do just that when she asked me to write a guest post with Leftover Ham recipes.
I shared Bean with Bacon Soup, Tortellini Bean and Ham Salad, and Ham and Broccoli Quiche.
Another great reason to cook a holiday dinner or to simply buy meat around the holidays, it's most always on sale. I bought our ham at Aldi's for $8.37 and got 5 meals out of it. It also Works For Me to help stretch our grocery budget.
So, do you have a favorite ham dish? Or maybe a yummy egg salad recipe?
Please add it to the linky, and be sure to link back to this post so everyone can share the recipes 🙂