Sharing Thanksgiving with Family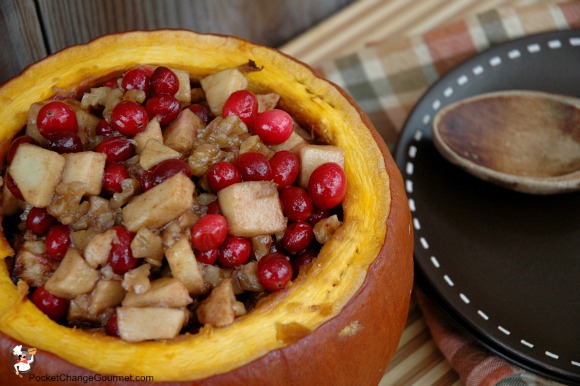 Ahh, Thanksgiving, a wonderful holiday full of delicious food and wonderful family get-togethers. But all that joy in the celebration makes it sad for those who can't join in it. Unfortunately our extended family on Doug's side can't be with us this Thanksgiving, because they live over 4 hours away. But the member of our family that we're missing the most is Doug's Dad. Our time with him is precious, and we're saddened by his absence this year.
Over the years, we have shared many holidays with Doug's family…whether it's Aunt Mary's homemade noodles or the year my Mother-in-law received a huge package with a lot of small ones wrapped inside…the memories are precious!
But even if he can't travel over to us, we can still send him our regards. This year we're doing this through the Cardstore and their perfectly personalized cards. One of these cards is just what we need to tell him that we love him. It's just too bad that he'll have to miss out on this tasty treat…Baked Pumpkin with Apples, Cranberries and Walnuts!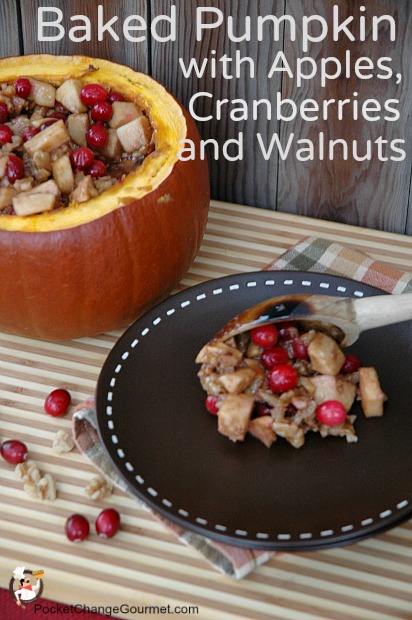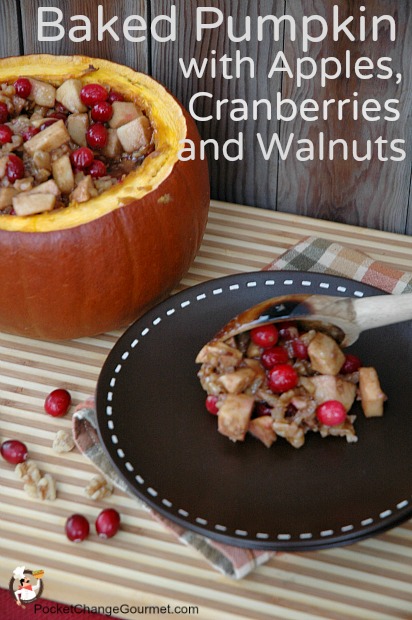 Our family has always been about trying new things, and in case you haven't noticed, new foods are definitely included in that. That's why our family has recently adopted a new tradition. That is for every Thanksgiving we have to have something new on the table.
We love the classic holiday feast, but eventually it gets tiring, seeing the same spread year after year. So we've decided to spice up our holidays with this little tradition, and so far each Thanksgiving has gotten better and better.
This holiday season, Cardstore is helping each of us extend our Thanksgiving celebration and promote the spirit of giving by allowing me to send each of you my special recipe and a Cardstore coupon code good for one free card! I just need you to complete these two simple steps:
Step 1: Leave a comment below sharing one Thanksgiving memory that makes you smile
Step 2: When the registration box appears, complete the form
Step 3: That's it! My recipe and a coupon code from Cardstore will be sent to you by mail
This is a sponsored conversation written by me on behalf of Cardstore. The opinions and text are all mine.