Welcome to our second week of the Cupcake Challenge!!
If you missed the first week, don't worry, you can continue to enter all month long. And you are welcome to enter as many times as you like. You can read all about the details.
Today's challenge is all about a Summertime Fun event we did, or maybe even wished we did.
Here in Northwest Indiana, we are surrounded by beautiful lakes, and only about 15 minutes from Lake Michigan. Even though we don't get to the beach as much as we should or would like, we do enjoy our time there.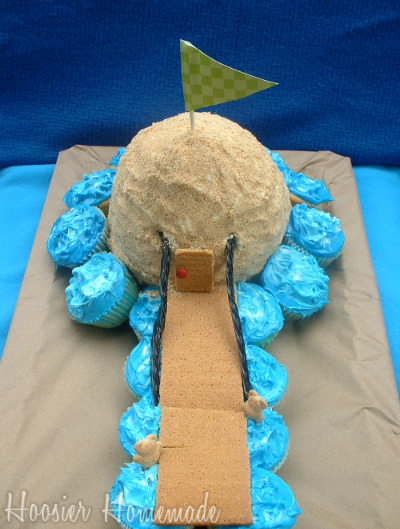 I was so excited to review the Big Top Cupcake! The baking pan is made of silicone, which allows for ease in getting the cupcake out of the pan and also easy clean up! The Big Top Cupcake is 25 times larger than a standard cupcake. They have lots of fun ideas to make with the cupcake pans.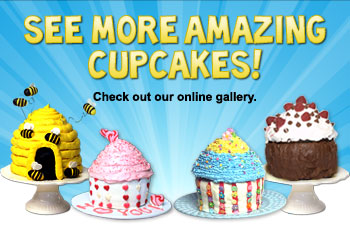 I found the set to be very easy to bake with. I did over-fill mine some, but will definitely know next time exactly how much batter to add.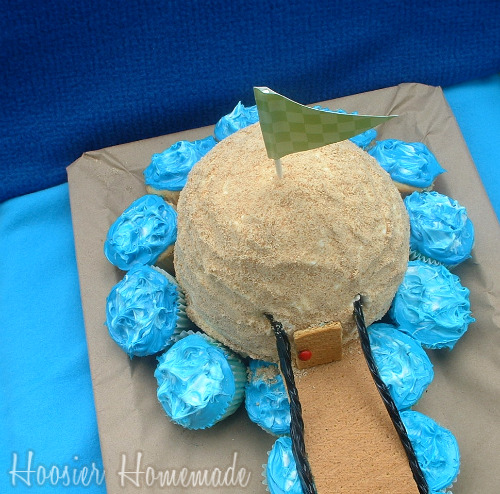 How to make the Sand Castle Cupcakes:
Chop Nilla Wafers in the food processor or crush them with a rolling pin

Gently pat the crumbs into the frosting

Frost standard size cupcakes with blue frosting to resemble water (I used the same method that I did for the

Pool Cupcakes

)

I added the "water" around the Castle

We made the flag out of scrapbook paper and a sucker stick

I used Graham Crackers for the draw bridge

Black Licorice for the chains

And then added a little door and handle made from a mini M&M

And a couple little Teddy Grahams for the people
There are lots of fun things you can do with the Big Top Cupcake! Would you like to win one? I started a seperate post, again this week, to make it a little easier. Giveaways around here this week are pretty crazy! So, please be patient, and let me know if you have any questions, I'm happy to help.
If you missed the Back to School Giveaway Bonanza announcement, you can still check out all the giveaways. On Monday, I offered a Dell Inspiron 14R Laptop, Mabel's Labels and cute pre-school products from A Modern Eden.
Now…back to Cupcake Challenge business! Last week we offered some fun Wilton products for the giveaway, this week we are offering the Big Top Cupcake Baking Set. We have 3 more weeks left with a giveaway each week, and of course, the overall winner of the challenge, judged by Alan from What's New, Cupcake? book. You may just "FLIP" when you see what the prize is for the winner!
Here is how this is gonna work…
Cupcake Tuesday – if you have a Cupcake to share for Cupcake Tuesday, please add it to that linky
Cupcake Challenge – if you have a Cupcake, that follows the theme, please add it to that linky. PLEASE be sure to follow the Cupcake Challenge rules, I will need to delete you if you don't, because Alan from What's New Cupcake is judging and I don't want him to get confused. thanks!
Big Top Cupcake Baking Set Giveaway (Head on over and enter to win!!)