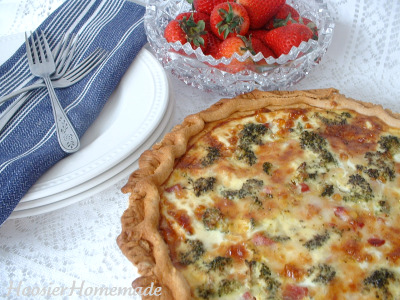 How was your Christmas? Did you enjoy your time with your family and all the good food?
We had a GREAT Christmas! And lots of good food too! I cooked Ham and the usually side dishes, Sweet Potatoes, Mashed Potatoes, Gravy, Corn, Biscuits, and of course, dessert.
I thought you all might like some recipes to use up some of your leftover Ham.
Soup and Sandwich night is not only delicious, but also easy and inexpensive. How about a Grilled Ham & Cheese and Potato Soup? Erin at $5 Dinners always has such yummy recipes!
This Cheddar Cheese Soup with Vegetables that Jessica from Good (Cheap) Eats made looks yummy! And I agree with her, you could add a little diced ham too.
Make-Ahead meals are perfect this time of year! Cheesy Pasta Ham & Peas can be made up and frozen for another time.
I have never made anything like these Ham and Pineapple Melts but they look like they would be a hit! I found them on Closet Cooking via Once a Month Mom.
Visit my Ham Leftover Linky from last April for more great ideas!
Our Menu Plan…
Monday ~ Chicken Quesadillas
Tuesday ~ Ham and Scalloped Potatoes
Wednesday ~ Fettucini Alfredo, Garlic Bread and Salad
Thursday ~ Ham and Broccoli Quiche
Friday ~ Happy New Year!!
Saturday ~ Chili and Baked Potatoe Bar
Sunday ~ Lasagne, Parmesan Knots and Salad
As 2010 draws to a close, I'm taking a little time this week to be with my boys and plan ahead for 2011. I have some great things in the works for Hoosier Homemade…I'm sure you will be happy!
I will be sharing another New Year's Eve Cupcake tomorrow for Cupcake Tuesday, then the rest of the week will mostly be "The Best of 2010".
So tell me…what were some of your favorites in 2010? Baking, Decorating or Cupcakes??
I'm linking to…What's on Your Plate, Menu Plan Monday and Delicious Dishes