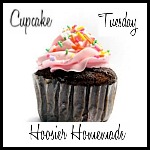 Welcome to Cupcake Tuesday!   If you are new here, grab a cup of tea or a glass of milk and enjoy a cupcake!
Wow! Did you see all the great cupcakes on last week's Cupcake Tuesday? There were 22 awesome ones, how about Orange Creamsicle or Strawberry, we even had a Breakfast cupcake and a Strawberry Daiquiri Cupcake! Oh my! Thanks to everyone for linking up.
I have some VERY exciting news for all your Cupcake Enthusiasts!
I'm sure you have heard of Cupcake Wars on the Food Network! Well, if you haven't had the chance yet to see it, check it out!
Isn't that the cutest button ever? My good friend Keri Lyn from She Saved helped me with it.
Here are the basic for the Cupcake Challenge …
Beginning August 3rd  and finishing August 31st, every Tuesday during Cupcake Tuesday

Each week will be a new Challenge, I will post them next Tuesday so you will know ahead of time

You will link up in a seperate linky, your Cupcake Challenge

entry

There will be PRIZES! Of course, GREAT Prizes!
Update: I've added the details for each week's challenge on the Cupcake Tuesday page!
So, are you up for the Challenge? I hope so! It's gonna be great fun!
Now, how about a Cupcake? A Raspberry Cupcake!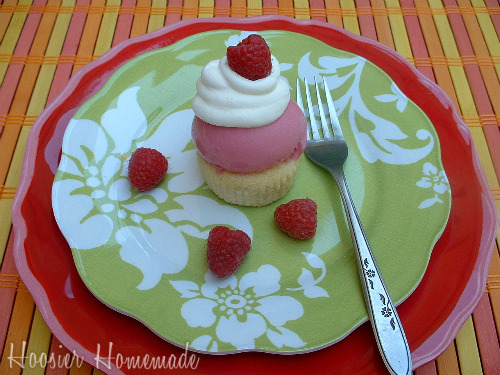 These cupcakes are so simple, but very refreshing for these hot Summer days!
I started with a plain White Cupcake. You can try one of the recipes I have on the Cupcake Heaven page, or simply use a box mix and add some special ingredients to make it taste like you made it from scratch.
After the cupcakes have cooled, trim the top to make them level (of course, scraps are for snacking), then add a scoop Raspberry Sherbert, a little whipped topping and a few berries.
There you have it! Cool, Easy and Refreshing!
And on a side note, I thought I would let you know about the new coupon for Flirty Aprons! I love my Flirty Apron that I received back during the Mother's Day Giveaway Extravaganza! Head on over! The Aprons are 10% off if you purchase $30 or more, use code CJ10.
Be sure to head on over and link up to Delicious Dishes (Tues a.m.) on It's A Blog Party, my other blog, where I host a different linky party everyday! I'm starting a new, yummy giveaway too!
Now, it's time to share your creations! Please be sure to link back to this post so your readers can enjoy all the entries and visit one or all of the participants.