Laundry…ahh Laundry…the ongoing battle of keeping up with laundry. With 3 teenage boys in the house, you would think my laundry job wouldn't be "piled high" but instead, I tackle at least 15 loads per week. So when I can find a product that makes my laundry even a little bit easier, I'm happy!
Purex recently sent me some of their new Complete Crystals Softener to try, and I have to say…I love it! It's quick, easy and the crystals are genius. No more spilling sticky liquid softener!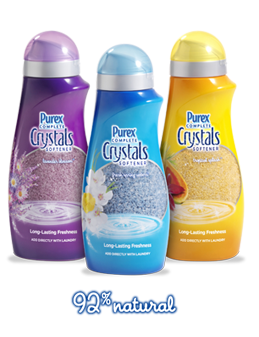 Purex Complete Crystals Softener is 92% natural, the unique crystal form works differently than traditional oil-based softeners that coat fabrics with oily residue, because it infuses fibers with long-lasting fragrance. In addition, since you add it directly with your laundry, this means no more waiting for the rinse cycle, no messy residual gunk in your washing machine, and no more stains from spilling liquid fabric softener.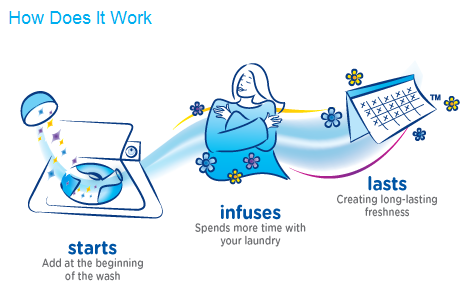 HOW IT'S USED > ADDED WITH LAUNDRY AT THE START OF THE WASH CYCLE

Why struggle with plastic fabric softener balls, risk staining your clothes or waste time waiting for the rinse cycle? Simply add Purex Complete Crystals Softener directly with your laundry at the beginning of every wash cycle to infuse fabrics with long lasting freshness.
HOW IT WORKS > CRYSTALS DISSOLVE INFUSING FABRICS WITH FRESHNESS

Laundry scent lovers will perk up as freshness is infused into clothes with this new fabric softener. Over time, traditional oil-based softeners coat fibers causing harmful oily residue to accumulate. Purex Complete Crystals Softeners penetrate fabrics to reduce fiber entanglement and smooth frayed fibers providing a naturally soft feel.
WHY IT'S DIFFERENT > SAFE FOR ALL LAUNDRY AND BETTER FOR FABRICS
Do ALL of your laundry—worry free! Purex Complete Crystals Softeners are safe for all laundry and will not harm, wear down or discolor your fabrics like oil-based softeners. Safe for all fabrics, including baby clothes, athletic wear, towels, and whites. Unlike other softeners, Crystals WILL:
 Preserve the flame retardant benefits of your children's clothes
Retain your athletic wear's wicking ability which draws sweat away from your body
Maintain your towels' built-in ability to absorb water
Keep your white clothing from yellowing and graying vs. using traditional softeners
The product won't harm your clothes and is safe and convenient for the entire
Purex Complete comes in three scents…Fresh Spring Waters, Lavender Blossom, and Tropical Splash.
Keeping our children safe is a responsibility that we don't take lightly, at any age. Learn more about how Purex is helping…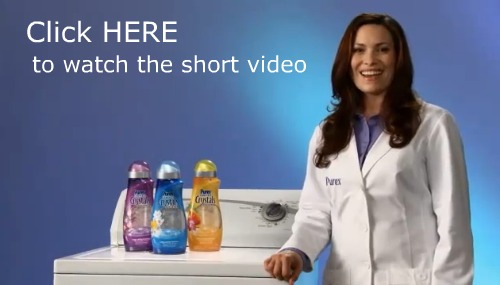 You can find Purex Complete Crystals Softener is priced from $3.97 for the 32 load size at Walmart. And be sure to visit Purex on Facebook and grab a $1 off coupon!

Disclosure: This post is part of a campaign I am participating in with the Walmart Moms. Walmart has provided me with compensation and product for this post. My participation is voluntary and opinions, as always are my own.