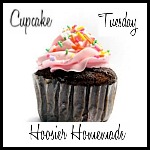 Welcome to Cupcake Tuesday! If you are new here, grab a cup of tea or a glass of milk and enjoy a cupcake!
After last week's adventure with the Crashing Witch not turning out how I had planned her in my head…I was excited that this week's Pumpkin Patch Cupcakes turned out exactly how I had envisioned them.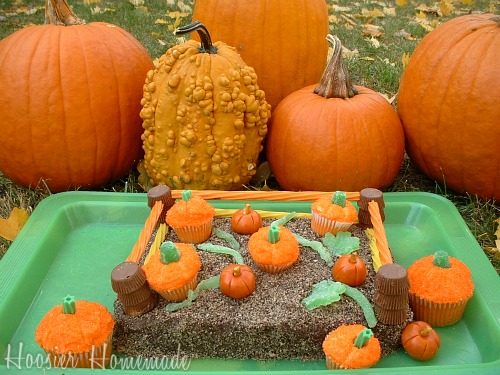 Have you been to the Pumpkin Patch to find the perfect Pumpkin? We have several really fun Pumpkin Patches near us, the one we most often visit has a hayride, corn maze and some fun rides for little ones.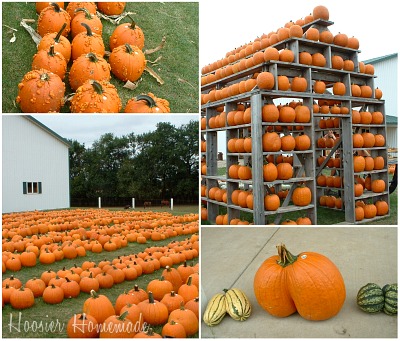 I think that Pumpkin House is really cool and look at those bizarre Pumpkins, they are 2 growing together.
Let me show you how easy the Pumpkin Patch Cupcakes were to put together…
Print
Pumpkin Patch Cupcakes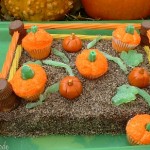 Create a fun and festive Pumpkin Patch with cupcakes – instructions on HoosierHomemade.com.
Ingredients
1 cake (13×9 or other rectangle size)
Mini and regular size Cupcakes
Buttercream Frosting (part of it tinted orange )
10 cookies (I used vanilla and chocolate mixed)
Mini Peanut Butter Cups
Colored Twizzlers
Wooden skewers
Fruit Slices (learn how to make the leaves)
Green Gumdrops
Orange sugar
Instructions
For the cupcakes, I used a vanilla batter and tinted it orange. The cake is yellow, but you can certainly use any flavor.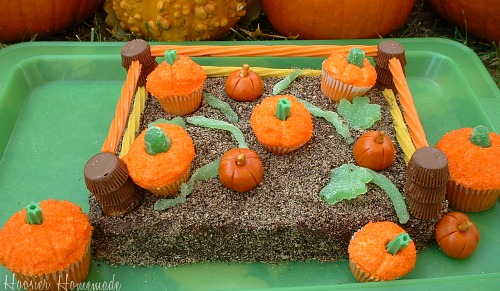 To learn how to make the Peanut Butter Pumpkins, be sure to sign up for my Cupcake Chronicles Newsletter! (in the sidebar) Last week I shared some fun Halloween Printables!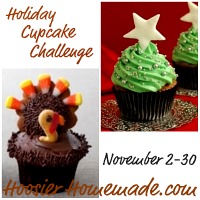 Don't forget! Next week starts the Holiday Cupcake Challenge! Come join the fun! The details are on the Cupcake Tuesday page!
Blog Party has a new feature, Blogger Spotlight! Hop on over and see who is featured today…you may just find a new favorite blog to follow!
Now, it's time to share your creations! Please be sure to link back to this post so your readers can enjoy all the entries and visit one or all of the participants.