The Family Dish is a website that is full of great recipes and lots of ideas for bringing your family together at dinner time! I'm very honored to be an Ambassador for this Unilever program.
I've shared with you my Peach Cupcakes, Fried Potatoes, and Cheesy Bacon Crescents here on Hoosier Homemade. I also have several other recipes on The Family Dish website, including a video on how to make Peanut Butter Cups.
As part of the program, Unilever sent me to New York City for a very special, fun filled weekend! It was very exciting to cook in the Unilever Test Kitchens, and I will be sharing several recipes from the ones we prepared.
One of those, were these Portobello Pizza Burgers…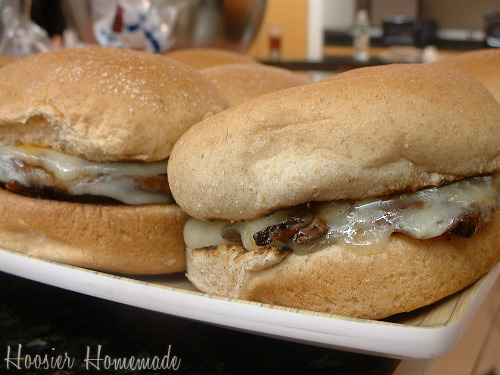 I love mushrooms, love them fried, sauteed, on pizza, pretty much any way to cook them. And these Burgers were no exception.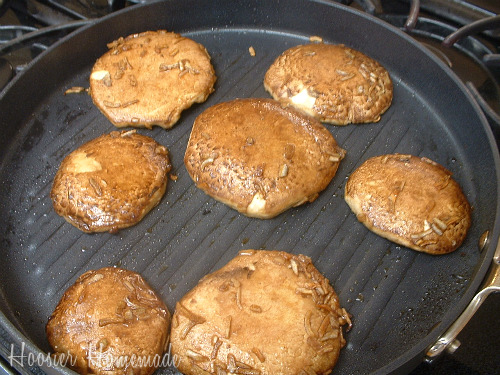 My group did not prepare these, but I did take the pictures, and of course, I did taste them, along with all the other great food we shared.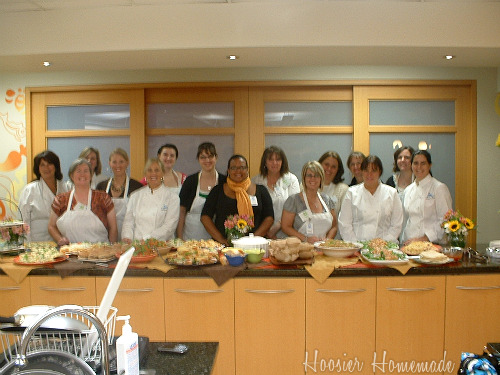 Print
Portobello Pizza Burgers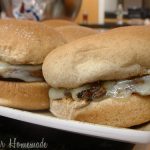 Portobello Pizza Burgers from the Unilever Test Kitchen – recipe on HoosierHomemade.com
Ingredients
1 envelope Lipton® Recipe Secrets® Onion Soup Mix
1/2 cup olive oil
8 portobello mushrooms, gills and stems removed
8 slices mozzarella cheese
1/2 cup Ragu® Pasta Sauce or Ragu® Pizza Sauce, heated
8 buns, whole wheat or multi-grain, toasted if desired
Instructions
Combine Lipton® Recipe Secrets® Onion Soup Mix with olive oil in large resealable plastic bag, add mushrooms, turn to coat.
Close bag and marinate for 1 hour.
Grill or broil mushrooms, turning once, about 8 minutes or until tender, add the cheese for the last 2 minutes of cooking.
Place mushrooms on bun and then top with Pasta Sauce.
Our Menu Plan…
Monday ~ Easy Swedish Meatballs, Baked Mac & Cheese, Applesauce
Tuesday ~ Breakfast for Dinner – Cowgirl Casserole (Lamp Unto My Feet), Fruit & Muffins
Wednesday ~ Portobello Pizza Burgers, Sweet Corn
Thursday ~ Chicken Spaghetti, Homemade Bread, Salad
Friday ~ Happy 22nd Anniversary to my husband!!
Saturday ~ Mediterranean Bean Salad and Greek Chicken Gyros (Food for my Family)
Sunday ~ Chicken n' Noodles, Mashed Potatoes, Corn
Don't forget! Tomorrow (7 a.m.) is Cupcake Tuesday, so get your Cupcakes ready to share! And don't forget to add your posts to the Delicious Dishes linky party over at Blog Party every Tuesday, 7 a.m.
I'm linking to the Blog Parties in my footer, please visit them! You might just find one or two that are new to you! 
Disclaimer: Unilever paid for my trip, they did not ask me to blog about my trip or give any recipes. It was my choice to do so.