Print
Peanut Butter & Jelly Cupcakes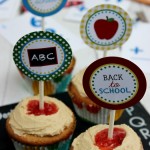 Perfect for after-school snack, special occasion or even a bake sale.
Author:
Prep Time:

10 minutes

Cook Time:

20 minutes

Total Time:

30 minutes

Yield:

18-24

Category:

Cupckes
Ingredients
Peanut Butter Cupcakes
1 3/4 cups flour
2 1/2 teaspoons baking powder
1/2 teaspoon salt
1/4 teaspoon baking soda
1 1/2 sticks (3/4 cup) butter, unsalted, softened
1 1/3 cups sugar
3 large eggs
1/2 teaspoon vanilla
2/3 cup peanut butter
1/2 cup sour cream
Peanut Butter Frosting
1 cup butter, unsalted, softened
1 cup peanut butter
3-4 tablespoons milk, depending on consistency
2 1/2 – 3 cups powdered sugar
Jam or Jelly – your favorite flavor
Instructions
Cupcakes
Preheat oven to 350 degrees and add liners to cupcake pan
In a medium bowl, combine flour, baking powder, salt and soda, set aside
In a large mixing bowl, combine butter and sugar and beat until fluffy, about 3-5 minutes
Add eggs and vanilla and mix well
Gradually add flour mixture, alternating with sour cream and peanut butter
Mix until smooth – batter will be very thick
Divide into liners and bake at 350 degrees for about 15-18 minutes or until a toothpick comes out clean
Frosting
In a large mixing bowl, beat the butter and peanut butter until smooth, about 2-3 minutes
Gradually add the powdered sugar, alternating with milk until desired consistency
Decorating
Fill cupcake with a couple spoonfuls of jam or jelly, if desired
Add a large dollop of frosting to cooled cupcake, spread to edges using an offset spatula. Use the tip of the spatula to create an indentation for the jam.
Spoon jam onto cupcake
By continuing to use the site, you agree to the use of cookies. more information
The cookie settings on this website are set to "allow cookies" to give you the best browsing experience possible. If you continue to use this website without changing your cookie settings or you click "Accept" below then you are consenting to this.