With all the hot weather lately, I haven't been doing a lot of cooking or baking. We've been eating lots of salads and sandwiches, which I'm sure most of you have as well.
Last weekend, we took the afternoon and headed to the beach. We have beautiful lakes around us. We are about 15 minutes only from Lake Michigan, and also have several lakes here in LaPorte too.
Packing a Picnic for the Beach can be lots of fun, but sometimes tricky, because you don't want to take food that will melt, like chocolate, or food that will fill you up too much and make you feel heated in the weather. Even though I REALLY wanted to take some Beach Cupcakes with us!
While the kids were getting their "gear" ready, I cut the bread with cookie cutters for sandwiches. Then while I made a late breakfast, the kids put the sandwiches together.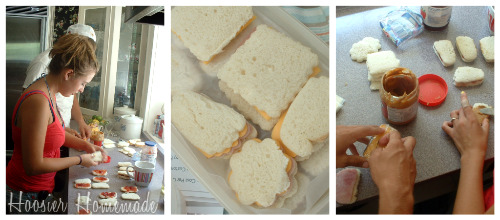 They made Peanut Butter & Jelly, and some Ham & cheese. We also used a Melon Baller

and made some Fruit Kabobs with Watermelon, Cantelope, Strawberries and Blueberries.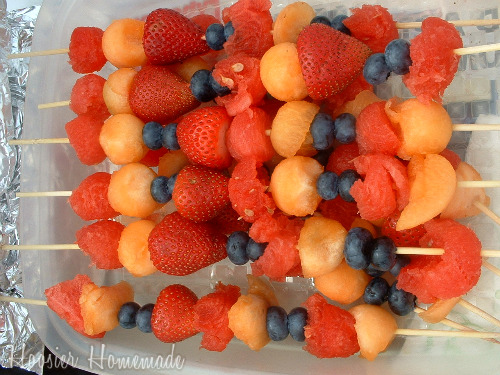 Sorry, my pictures are from the beach, not at all fancy this time. But a very good lunch though, my son said…"I love this lunch, so simple, yet just perfect!"
I added some bottled water with Mix'ins, that way we covered both bases with drinks, a bag of chips and some snack crackers.
The kids had fun playing in the sand, and we all built a very "lovely" castle.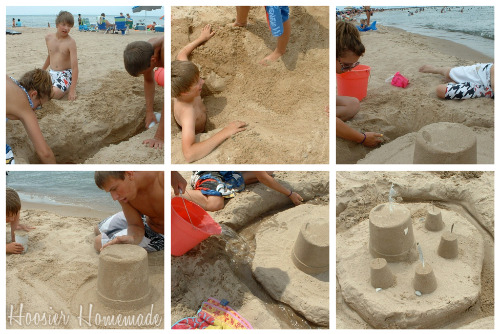 Are you a beach lover? What do you pack in your Picnic Basket?
Share with me over in my Blog Frog Community or on Facebook! I'd love to chat!
I'm linking to the Blog Parties in my footer, please visit them! You might just find one or two that are new to you!