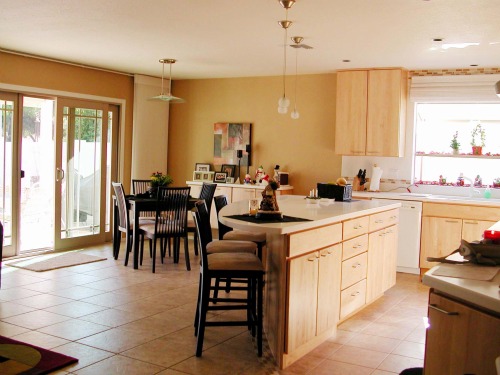 The following is a guest post from freelance writer, Maria Rainier. Thanks so much for sharing with us.
Organize Your Kitchen with a Mini Makeover
When you're thinking about re-organizing a room in your house, you tend to pick the one that's the messiest, in-your-face nightmare of clutter. It's probably your son's room, the living room full of toys and school supplies, or the dining room whose table can't be found underneath all the clutter that covers it. You don't usually think about tackling the kitchen because it's your domain and you've got it under control – or do you? If you haven't focused your organizing energy on your kitchen in a while, you might consider trying some of these mini makeover tips to whip your kitchen into shape.
Save Cabinet Space
Unless you deliberately reorganize your kitchen cabinets as part of your annual spring cleaning effort, you and your family will start to pile old plastic containers on top of holiday platters and plates will get buried beneath a collection of water bottles. Spring is still a few months away and your cabinets are overflowing if they're anything like mine, so why not tackle them now?
Take everything out of your cabinets and consider how you can organize them to best suit your needs. For example, if there's a certain area of the kitchen where you tend to do your baking, store everything you need for that activity in the adjacent cabinets. You can keep your mixer, large bowls, cookie sheets, bread and bar pans, flour, sugar, and other essential baking goods in one or two cabinets. This will save you time and energy when you're baking and it might even save you some space if you can store these items efficiently.
As for your dishes and glasses, you can save space by nesting bowls and stacking plates on top of one another, even if they're different sizes. Just keep the smallest plates at the top and the largest ones at the bottom. With stemware, you can make better use of your space by alternating upright glasses with upside-down ones.
While you're returning everything to the cabinets, keep an eye out for items you could donate, recycle, or throw away. We have a few pack rats at my house, so we tend to accumulate unnecessary mountains of plastic containers that can be recycled instead of taking up valuable cabinet space. You can also watch for damaged plates and glasses, throwing out any that are chipped so your family doesn't have to worry about sharp edges while washing dishes, eating, or drinking.
Purge the Pantry & Refrigerator
This process is pretty similar to cleaning out the cabinets – take everything out, evaluate it, see if you can get rid of anything, then reorganize and restock. Throwing things out gets a little easier in the pantry and refrigerator because you can go by expiration dates. No matter how careful you are, it's inevitable that you'll find something that's overdue for a trip to the trash can or recycle bin. If you have canned goods that you don't think you'll use before they expire, donate them to your local food pantry. Now that you have more space, you can organize everything the way you'd like to and keep it that way. It helps to organize your pantry and refrigerator by food groups, placing the items that expire soonest in front where they'll be used quickly.
Clear the Utensil Drawer
One more simple thing you can do to reorganize your kitchen is to get a utensil organizer for your cooking tools and silverware drawer. First, get rid of any sauce packets, napkins, and other wandering items that somehow end up in the utensil drawer.
The next step is to find a good organizer, which can be done at your local Target, Wal-Mart, Bed Bath & Beyond, or other similar store. You can measure your drawer and find one that fits, or you can pick up an expandable one that will fit a variety of drawer sizes. The latter is especially helpful if you ever need to switch organizers between drawers of different sizes. It's also helpful to choose one that's made of mesh so it can be easily cleaned and dried.
Once you have your organizers, you can decide where to store your utensils so that you can see everything you might need to grab from the drawer. Try not to hide anything at the back where you won't be able to find it. It may help to get a counter stand for some of your more commonly used cooking utensils, such as wooden spoons and spatulas. This will free up your drawer so you'll be able to find whatever you need every time you open it.
Bio: Maria Rainier is a freelance writer and blog junkie. She is currently a resident blogger at First in Education, researching the best paying engineering degrees as well as some of the lowest paying jobs around. In her spare time, she enjoys square-foot gardening, swimming, and avoiding her laptop.