Having a beautiful home is very important to me. I want our home to be comfortable and relaxing.
Being unorganized = stress to me. It drives me absolutely crazy when I can't find something, and have to spend my precious time searching around the house.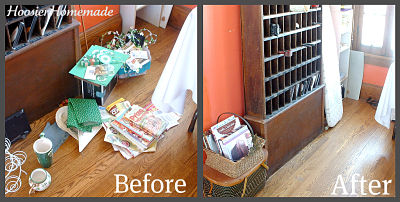 In the last several months, Hoosier Homemade has grown by leaps and bounds. I have been cooking, baking, photographing and blogging like a crazy women! 🙂
My office has gotten way out of hand, and I couldn't stand it anymore!
While I still enjoyed the Office Remodel that I did way back in May 2009, it had just become too crowded. I had 2 tables, creating a very long (16ft) flat surface. I liked having all the space, but I found that the more flat surface you have available, the more things start to pile up. And I'm as guilty as my family is about doing it.
So I took down one of the long tables, replaced it with a smaller table and moved around a few things. And added lots of baskets to store my props and books in. I like using baskets, especially ones with lids because you can put your things in, close the lid and it looks very organized.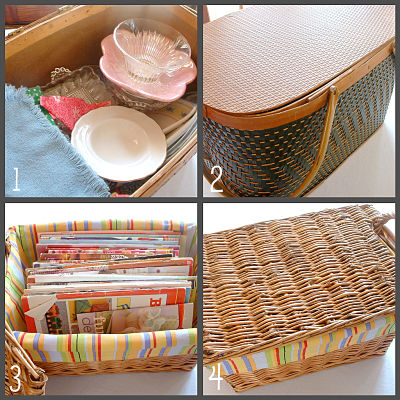 In a large picnic basket, I put all my props that I use for my yummy food pictures
Closing the lid makes it nice and organized
In this small basket, I put all my small paperback cookbooks, ones like; Pillsbury Come & Eat, Taste of Home and the little $1 cookbook that Pampered Chef offers (I love those little books)
Again, closing the lid makes all the difference
At the end of my desk, I have 2 baskets full of magazines and food articles that need to be gone through, my small basket with cookbooks and a old wooden box that I used years ago for my cross-stitich, I placed all Hoosier Homemade paperwork in it
In another corner, I put my picnic basket full of props and an open basket full of my favorite cookbook, including Hello, Cupcake and Martha's Cupcake Book.
On top of the desk, I have a basket that holds my reading material, a folder for Ebay paperwork and in the small compartments, I store my camera and cords
I moved some shelving units around, stacked them, and created an area to store my larger magazines, Kraft Food & Family, Taste of Home, etc., my sewing basket and the school supply box for the boys.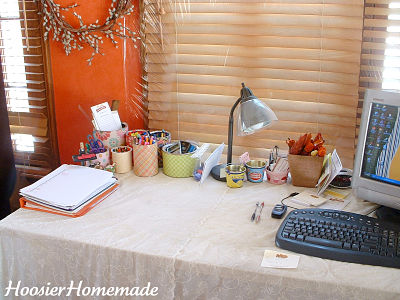 And my desk is clean and organized…at least for the time being 🙂 If you are interested in the canisters I have on the desk, head on over and check out the tutorial I did on them.
Do you use baskets to store and organize your things? Share with us how…
This post linked to:
~Transformation Thursday hosted by The Shabby Chic Cottage