Be sure to visit I'm an Organizing Junkie for more great Menu Plans.
Monday ~ Taco Ring  (recipe)
Tuesday ~ Baked Chicken
Wednesday ~ Eat Out (2 hour road trip for baseball game)
Thursday ~ Spaghetti and Meatballs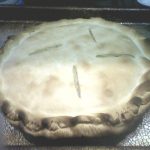 Friday ~ Chicken Pot Pie
Saturday ~ Shanghai Wings (Recipe)
Sunday ~ Grill Out
Snacks for the Week
Applesauce Muffins, Chocolate Chip Cookies and Snickerdoodles
The recipes are on my Mixing Spoons page.
My meal plan last week, went pretty well. I did really well with keeping the cost of our dinners down, but got busy on Saturday and Sunday and didn't stick to my plan.
Monday ~ Baked Brunch Omelet  $3.50
Tuesday ~ Scalloped Potatoes and Ham $3.50
Wednesday ~ Fried Egg Sandwiches and leftover ham $1.16
Thursday ~ Sloppy Joes and Mac & Cheese  $6.00 (made a double batch of Sloppy Joes and had lots leftover)
Friday ~ Frozen Pizza $9.00
Saturday ~ Leftovers $-0-
Sunday ~ Went to Birthday Party
Total  $23.16