Please visit I'm an Organizing Junkie for more great Meal Plans.
We have lots going on this week, Andrew turns 18 on Monday, Spring Break, and Easter.
Monday ~ Probably Leftover Buffet, as we had the Homemade Chicken Nuggets and Fries for Birthday Dinner on Sunday
Tuesday ~ Homemade Corn Dogs (recipe from Chaos in the Kitchen, originally posted on MomAdvice)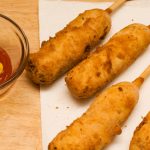 picture from Chaos in the Kitchen
Wednesday ~ Chicken N' Noodles and mashed potatoes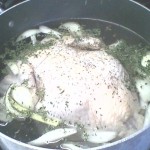 I try to boil a whole chicken, mostly for the flavor but also the cost. While you are picking the meat off the bone, bring a pot of water to boil, cook the noodles. When the noodles are done, mix them with 2 cans of Cream of Chicken Soup and 1 can of milk. Stir in the chicken. Sometime I put them in the crockpot to keep them warm.
Thursday ~ Tuna Casserole and fruit
Friday ~ Enchiladas, chips and salsa
Saturday ~ Stuffed Baked Potatoes and Chicken Wings (recipes)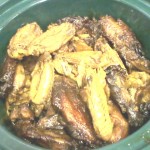 Sunday ~ Easter Dinner – Ham, Mashed Potatoes, Sweet Potatoes, Cheesy Potatoe Casserole (recipe) Green Beans, Asparagus, Jello Fluff Salad, Desserts and Dinner Rolls
For more great recipes you can visit my Mixing Spoons page.
Here is a re-cap of last weeks meals and what I spent.
Monday ~ Fettucini Alfredo $4.92
Tuesday ~ Breakfast  $3.70
Wednesday ~ April Fool's Day Dinner – Snakes and Bugs  $6.26
Thursday ~ Chicken  $3.40
Friday ~ Bacon Cheeseburgers and Fries  $6.10
Saturday ~ Chicken Ranch Salad and Crescent Rolls  $4.34
Sunday ~ Homemade Nuggets and Fries, Chocolate Pudding (son's bday dinner)  $5.97
Total ~ $34.69
I always am able to keep the cost down for our dinners, it's all of the other food that I can't seem to get the budget down, but I'm working on it.
Please visit my What's For Dinner page, where I try and post daily what we are having with recipes.