Winter here in Northwest Indiana has definitely arrived. At the end of last week we received about a foot of snow, added to the foot we already had. The boys had 2 snow days and a late arrival, making them pretty happy campers. I've been busy with my cooking and baking as usual, along with preparing for the Blissdom Conference. I am looking forward to it so much I can hardly stand it 🙂 23 days and counting…
During the Winter months, I serve soup, usually once a week. The Taco Soup recipe I'm sharing with you is super quick (10 minutes to prepare) and very tasty.
Print
Taco Soup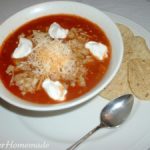 Ingredients
1 pound Ground Beef
1 small Onion, chopped
1 can (48 oz) Tomato Juice
1/3 cup Sugar, a little less
1 cup Frozen Corn
1 package Taco Seasoning (I make my own)
1 can Chili Beans
Instructions
Cook Ground Beef and Onion, drain.
While Beef is cooking, add all ingredients to the crockpot.
After the Beef and Onion are drained, add them to the crockpot. Simmer on low for 4 hrs or on high for 2 hrs.
Serve with crushed tortilla chips, shredded cheese and sour cream.
You can also make this in less than 30 minutes on the stove-top. This is a very frugal meal as well, the cost, $4.25, to feed our family of 5 and have leftovers.
Now, onto our menu for this week…
Monday ~ Breakfast (either Tacos or Pancakes)
Tuesday ~  Mostacolli, Bread sticks (new recipe that I will share soon) and Salad
Wednesday ~ Soup & Sandwich
Thursday ~ Loaded Tostadas, Nacho Bar
Friday ~ Hot Dogs, Mac & Cheese
Saturday ~ Homemade Pizza
Sunday ~ Roasted Chicken (roasting 2), Mashed Potatoes, Veggies
Do you Menu Plan? If you need some inspiration, you may find my Monthly Menu Plans and my weekly plans helpful.
This post linked to:
~Crockpot Wednesday hosted by Dining with Debbie
~Slightly Indulgent Tuesdays hosted by Simply Sugar & Gluten-Free