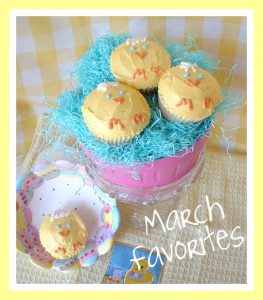 My Favorites ~ Your Favorites ~ Top Referrers
Last month I shared my favorites, your favorites and my top referrers. I really enjoyed looking back at the month, and hope you did too.
So, I decided to make it a monthly post. Wow, time really flies by, doesn't it?
A very special Thank You to all my readers, friends and family who have made Hoosier Homemade a success!
First, my top three favorite posts…
My Favorite Cupcake
These cute little chick cupcakes were definately my favorite! They were super easy, and perfect for Easter.
My Favorite Food Post
Hands down winner! The Easter Bonnet Cookies! They are sweet treat for Easter or even a little girl's tea party.
My Favorite Decorating Post
With all the baking I did for Spring Blog Hop, I didn't get much decorating done. My Easter Mantle was my favorite. I love the colorful, whimsical look.
Your Favorites…
Top Referrers…
Please take a minute and visit some or all of these great supporters. They are all fabulous, and I really appreciate them giving me their support! 
Have you heard my little secret? Read all about it!