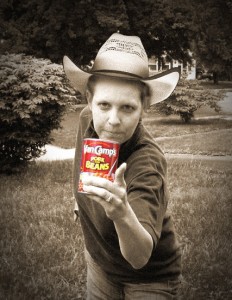 As a Mom and Housewife, I wear many, many hats…Cook, Baker, and definitely Dish Washer! Now I can add, Baked Bean Showdown Queen Judge/Referree to my Resume!! Yup, you read that right! I am the "official" judge and referree for the Van Camp's Baked Beans Showdown!
To learn all about how I got this prestigious role, head on over and pay Tricia (hehe, that's her in the picture above) a visit at Once A Month Mom…let's just say, Twitter strikes again!
If you would like to play along with them, you could even win a $50 Visa Gift Card! That's ALOT of beans, folks! (just kidding) you really don't have to buy beans with it!
So, who is in the showdown? Well, of course, non other than Tricia and Amy from The Finer Things in Life! You can grab their recipes, prepare them, decide which one you like best, vote and maybe even win a Gift Card!
This little guy sure is enjoying Amy's beans!